Before we dive into the fine details, here's a checklist that could prove helpful for you when it comes time to evaluate your outsourced call answering service. Feel free to print it out and take some notes!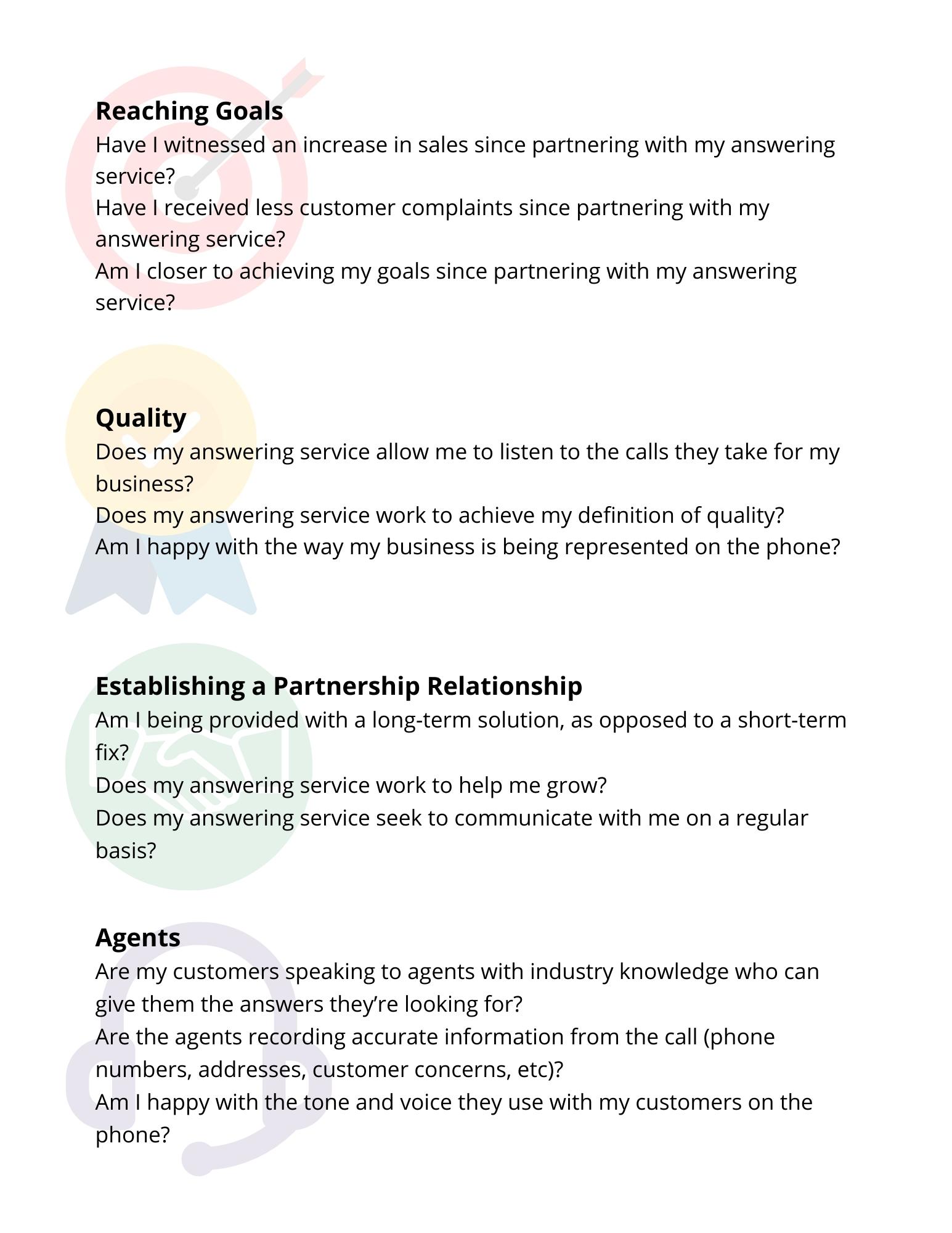 An outsourced phone answering service is a brilliant way to save your company time and money. However, how can you be sure that you're getting the most out of your answering service? Are you taking advantage of everything that an answering service can offer your company? Below, you'll find various questions to ask yourself to see if your outsourced phone answering service is doing everything that they could (and should) be doing for your business.
Have you gotten closer to achieving goals since partnering with your vendor?
Are you looking to increase sales by having them book more jobs after hours? Or are you trying to give your customers better customer service? Whatever the case may be, you'll be able to determine if you're getting a good return on your investment by tracking the progress you've made since partnering with them. Ask yourself:
Have I witnessed an increase in sales since partnering with my answering service?
Have I received less customer complaints since partnering with my answering service?
Am I closer to achieving my goals since partnering with my answering service?


When listening to calls, do you find that their definition of quality match yours?
First of all, your answering service should provide you with the transparency of being able to listen in on the calls they handle for your company. How else will you be able to get a true sense of the service they're offering to your clients?
That being said, your answering service is responsible for representing your company on the phone, and that's a role no one should take lightly! As a result, they should work with you to define your definition of quality and make it a point to consistently maintain that. When you listen to calls, you should be more than happy with the way your company is being represented. If your expectations aren't being met, don't lower your standards! Find a company that is willing to work to match your definition of quality. Ask yourself:
Does my answering service allow me to listen to the calls they take for my business?
Does my answering service work to achieve my definition of quality?
Am I happy with the way my business is being represented on the phone?


Do the people in charge of your account seek a partnership relationship with you?
When you visit your primary care physician, it's expected that the doctor has an extensive knowledge of your medical background. Therefore, he/she can more easily recognize when something is abnormal. Forming such a relationship with your answering service will yield the same result: they'll know the agitations you've run into with prior answering services or with scripting problems, and they'll more easily be able to navigate such issues.
Those in charge of your account should be willing to hear and help you, not simply approach every conversation between the two of you as an opportunity for a transaction. Ask yourself:
Am I being provided with a long-term solution or a short-term fix?
Does my answering service work to help me grow or to simply make a dollar off me?
Does my answering service seek to communicate with me on a regular basis?


Do the agents who answer for your account answer the way you'd want your own customer service representatives to?
No one wants to call a business only to be met with an unenthusiastic, unhelpful voice on the other end of the line. The agents who answer for your business should pay as much attention to the calls your business receives as they would a phone call from a close friend, and the information they record for you should reflect that. However, not only should they be engaged with your customer, but they should also be equipped with appropriate industry knowledge to better serve your customers. Ask yourself:
Are my customers speaking to agents with industry knowledge who can give them the answers they're looking for?
Are the agents recording accurate information from the call (phone numbers, addresses, customer concerns, etc)?
Am I happy with the tone and voice they use with my customers on the phone?


In summary…
In conclusion, you're paying your outsourced phone answering service to help you, not to hinder you! If your answering service is causing you more troubles than peace of mind, it might be worth your time to have a conversation with them or to begin seeking out other alternatives. For more information on evaluating your answering service, click here.