This blog will serve as an overview of our Integrating Your Answering Service With ServiceTitan: Best Practices webinar. View the full webinar here.
The Struggle
There are 4 general scenarios that home services companies who use ServiceTitan tend to have when they come in with a need for our assistance:
Their in-house team can't keep up with call traffic during the day
Their in-houe team is experiencing burnout when tasked with answering after-hours calls
Their current answering service provider still requires that the in-house team remain on-call
Their current answering service provider is using manual logins to interact with the ServiceTitan system
Why Your In-House Team Can't Keep Up with During Hour Call Traffic
Does this sound like your home services business?
Your in-house team does not have a service that is supporting you during business hours and the in-house team is struggling to field the phone calls. This can occur for several reasons. One, it may not be the in-house team members job to field incoming calls. Perhaps they have other responsibilities that take priority such as handling customers who come in office or working in the field.
But how can your in-house team focus on their primary job duties when the phone is ringing in the background? As a home services company, you know that when your phone rings, there are most likely dollars behind making that phone ring and it is critical that your team answer the phone and capture this lead or customer.
So you find yourself in a lose-lose situation:
Miss customer calls (and potential revenue) but complete in-house tasks
OR
Answer as many calls as possible (and possibly still remain overwhelmed) while finding yourself unable to handle other business responsibilities.
Does having dedicated in-house call agents help?
Some home services businesses may have team members whose job is 100% dedicated to answering incoming calls. Many of our prospects often have a team of two to five customer service representatives who spend their shifts fielding incoming calls, but still these CSRs can still become inundated during the busy seasons when call traffic spikes.
These CSRs find themselves having to put callers on hold just to answer other incoming calls, which can lead to a poor customer experience or upset callers who hang up and call the competition.
Why Your In-House Team Is Experiencing Employee Burnout When Taking Home an After-Hours Cell
Another situation that HVAC businesses tend to have is employee burnout. While the in-house team may do just fine answering incoming customer calls during business hours, they can easily become overwhelmed when the work day ends and they are still responsible for answering customer calls.
Many home services businesses who do not have an after-hour answering service to assist their team with answering those after-hours customer calls will task employees with taking home a cell phone that they are then responsible for answering. All after-hours calls are forwarded to this cell and the employee is responsible for taking the call. While your employees may be eager for some extra overtime, this responsibility can quickly become tiresome and result in a lack of work life balance.
No one can work 8-5 and then go home and still provide exceptional service to your callers. Your employees will become exhausted and may struggle to provide that customer service to your callers when they return back to the office the next morning.
In addition to employee burnout, having in-house employees handle after hours calls can cause trust issues. Is your employee really answering every call that comes in over night? Are your marketing dollars going to waste? Are you missing out on revenue dollars?
Why Your Answering Service's Basic Message Taking Still Requires Your In-House Team to be On-Call

If you do have an answering service, but they only offer basic telephone answering service capabilities, your team could still find themselves overwhelmed with calls. Basic telephone answering service providers will simply take a message and deliver it over to one of your staff members for follow up.
While this can prove beneficial because you now have someone answering that call, you still are putting much of the work on your in-house team to field that message and work whatever additional process needs to happen to get a technician out to a job or put that job into your system.
Answering Service Logging In Versus API
Now some answering service providers can work with your ServiceTitan platform, but manually log in with each caller. In this scenario, you will have to provide them with usernames and passwords so that they can log in on your behalf whenever a call comes in.
This solution can quickly cause issues whenever you have more than one caller at a time. Your agents will have to juggle with 2 systems, using their call center platform and your platform. This can cause confusion for your agents and an awkwardness for your caller.
In addition to causing an odd caller experience, juggling two systems will cause for longer call durations, and will force your call agents to place customers on hold. And what happens if you have multiple calls come in at once that all require an agent to log in to your ServiceTitan? Agents will either have to wait for the first agent to finish up their call, or they may unknowingly log out an agent who is in the middle of scheduling a call.
The Solution
In order to get past this struggle, you need an over-communicative HVAC answering service partner.
Never assume that when you work with an outsourced answering service that they understand your unique struggles, even if they have worked with businesses in your industry before.
It is essential that your answering service provider takes the time to really understand your business goals and the call handling processes that you expect.
The Efficiency and Effectiveness of API
API ( application programming interface) is the ability of integrating to push and pull data through the bridges that are coded in-house by our Dexcomm programmers thanks to the endpoints provided by ServiceTitan.
API integration allows your agents to NOT juggle two systems at once and instead push and pull the info that they need to and from their call center system where they are confident and trained to your ServiceTitan platform where you need that data. This results in shorter calls and a better caller experience with heighted agent engagement.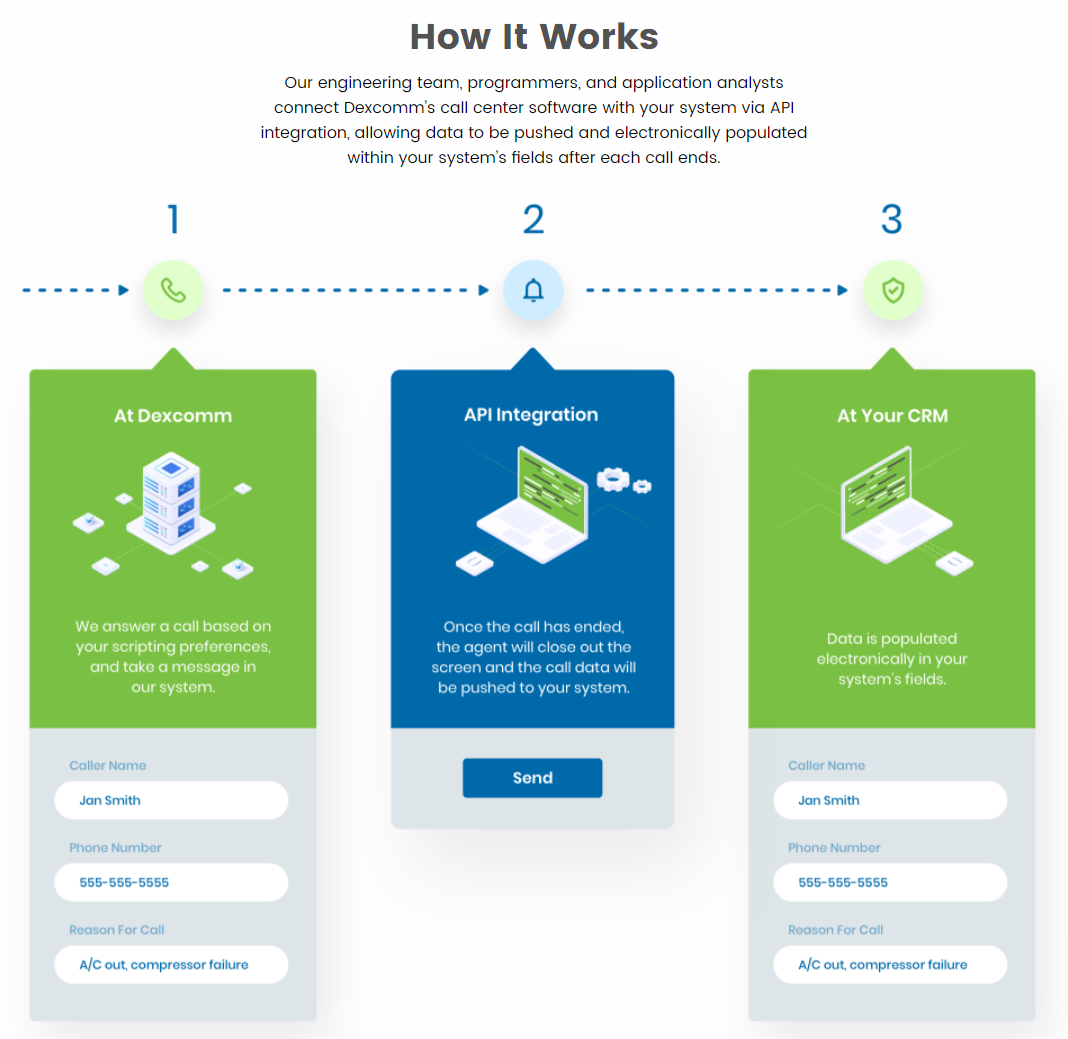 Through API, Dexcomm can:
Offer Streamlined Call Flow
Provide the Opportunity for Scripting Customization
Ensure Customers Exist in Your Database
Complete Quality Controlled "Job Details" Form
Offer Windowless Job Booking
Provide On-Call Escalation
Learn more about how Dexcomm's ServiceTitan API Integration can help your home services business by watching our on-demand webinar.