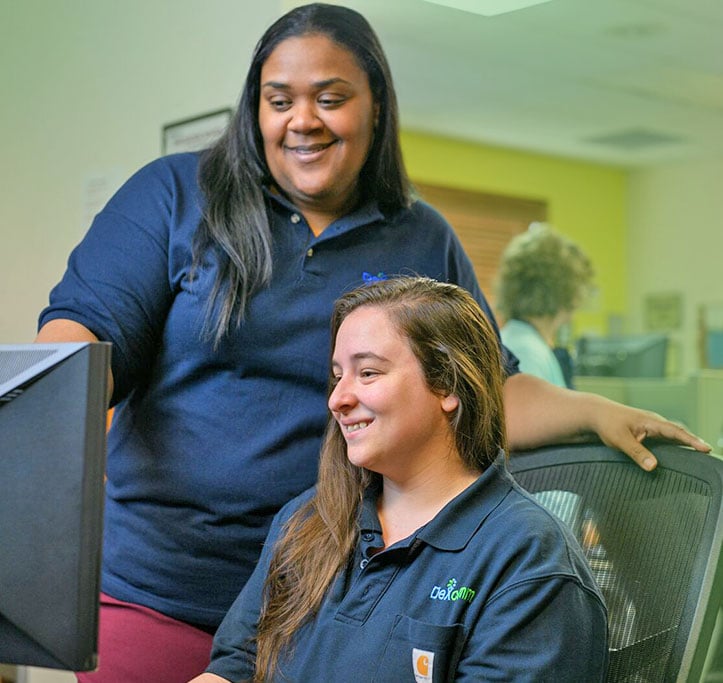 Lower turn-over. Decreased costs. Happier staff and customers.
We Train With You In Mind
Why invest so much time and effort into training our customer service representatives? Because we understand that your calls are more than calls- they are your livelihood, your time and your life. Putting the best resources in your hands allows your business to grow and thrive with the right communications partner.
First Weeks
New hires begin with three weeks of intensive training that is overseen by our in-house curriculum coordinator and expert training team. The first week covers telephony system knowledge, policies, and procedures. Week two focuses on potential on-call scenarios. Role play simulations are practiced until the trainee is deemed ready to move to live calls. In the final week of the new employees training, they take on live calls with the supervision of a professional trainer.
Career Development - Continued Training
Once the trained employee has completed their initial three weeks of training, they are assigned a mentor to shadow and work with while answering live calls. This step-by-step guidance ensures that the calls are being handled properly and that the new employee grows in confidence, which is critical to their success answering your calls.
The learning process is never over. Ongoing training keeps our employees current on changes for your account, best practices, and technology upgrades. Operators are trained weekly for each new account to guarantee that you will be satisfied with how we represent your business.
Every employee participates in coaching sessions with a senior team member for both professional and personal development. This emphasis on work-life balance keeps our employees growing and learning for a lifetime throughout their career with Dexcomm.
---
Want to know more?
Or Call
337-236-8300 and ask to speak with Jed, our sales executive