Established in 1954, Dexcomm has become an expert in telephone answering services, e.g., taking accurate messages and delivering a quality customer service experience to our callers. Our Virtual Receptionist services evolved out of our experiences and lessons learned while mastering the answering service business. Many of our clients recognized that they had expertise running their businesses, but found a value in leaving the receptionist duties to people who are experts on the phone.
Let us help you stay connected.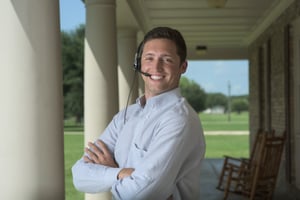 Our dedicated customer service team will spend time getting to know exactly what you need in a receptionist. We can provide reminder services, scheduling, eReply, as well as email, fax-to-email, and voice mail screening and alerts.
Virtual Receptionist services are great for small business owners and partners at firms who want to avoid the overhead of a full-time receptionist. Our representatives are trained and monitored to provide great customer service so that you don't have to go through the hassle of hiring and supervising extra staff members. Business owners who spend a lot of their time outside of the office or on the road find our Virtual Receptionists the perfect solution.
Utilizing our Virtual Receptionist services with our Web Portal Access has proven to be an excellent small business solution combination. Our Web Portal allows you to listen to every call we answer for you. It also gives you real-time entry into our technology and allows us to make information available to your callers about your products, services, events, or any additional information you want to provide. Our receptionists can manage scheduling, answer questions, and forward concerns to you. They're always professional and compassionate, and they're always eager to serve.