At Dexcomm, we believe that our culture of fun, hard work, and dedication is lived through core values that exist among our staff members. Our values ensure that we only employ team members who are the best "fit" for this environment. These values become an integral part of our everyday work and lives.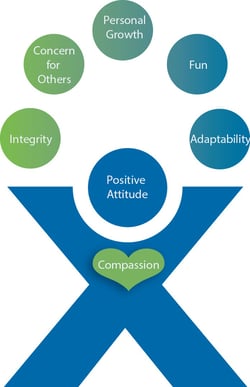 "MUST HAVE" VALUES
Compassion and concern for others are fundamental company requirements. Each employee must possess these values in both their personal and professional life to be a good fit at Dexcomm.
COMPASSION

– We listen to each caller, not just to hear, but to obtain a complete understanding of his/her need and respond directly to that need. Frequently, our callers are distressed. A compassionate operator is required to handle many delicate and difficult situations with empathy. We hire compassionate people who must demonstrate a genuinely concerned attitude.
CONCERN FOR OTHERS

– While similar to compassion, many times concern is required, but compassion is not a component of answering calls. We focus on the needs of the caller, while remembering the requirements of our customer. We have all participated in a discussion with an operator who is simply filling in a form, obviously not caring or listening to you. We strive to be concerned, present, and listen carefully to understand and remain respectfully engaged with every caller.
Learn more about our "must have" values!
"ACTION" VALUES
We demonstrate our core values by our actions. While these values may not always be necessary or appropriate, they must be a part of each of us when relevant and conducive to a positive outcome.
FUN

– We have and share fun with others at work. We believe that cultivating a fun place to work leads to a better experience for you and your callers.
ADAPTABILITY

– Dexcomm exists in a constantly changing environment. We serve many different types of customers, we work in all types of weather, and every minute of the year. We must adapt to the needs of our customers, our callers and our coworkers.
PERSONAL GROWTH

– We proactively seek out opportunities for continued growth and development better with each day for the benefit of the customer, the company, and our personal improvement.
"ASPIRATIONAL" VALUES
We recognize that no one is perfect, but we only want to work with people that aspire towards continual improvement. There will be times when we fall short; this is when we must renew our commitment and enjoy the many occasions when we have successfully met these expectations.
POSITIVE ATTITUDE

– Come to work believing you will successfully assist callers and you will achieve it! Make the choice to support the "positive" of a situation no matter what the consequences.
INTEGRITY

– Our goal is to speak with honesty and act with integrity and fairness at all times. We learn from our failures and mistakes with the hope of a better tomorrow, by consistently doing the right thing, at the right time, for the right reason.
---
Want to know more?
Or Call
337-236-8300 and ask to speak with Jed, our sales executive.