Customer Service Representative
We're seeking full-time and part-time Customer Service Representatives to join our growing team. If you thrive in fast-paced environments and can tackle challenges with professionalism and empathy, then we want you!
Dexcomm is an award-winning answering service and call center based out of Carencro, LA, that provides service to businesses across the nation. Customer Service Representatives answer calls on behalf of our clients, handling everything from taking a simple message to scheduling an appointment.
---
Position Overview
Ideal candidates for this position are people who:
• Adapt well to change
• Support others and work for the team
• Act with compassion, professionalism, and concern for others
• Always put the customer first
Key Responsibilities:
• Promptly answering incoming calls
• Showing professionalism in challenging situations
• Maintaining accuracy and timeliness
• Prioritizing confidentiality of all customer and company information
• Using call control skills to maintain speed
• Completing internal medical and non-medical certification programs
Position Requirements:
• Customer service experience
• Basic computer proficiency
• Typing speed of 50 wpm
• Availability for variable shifts during nights, weekends, and holidays
• Availability for emergency staffing needs
Remote Work Capabilities
Remote work is an option for employees that qualify.
---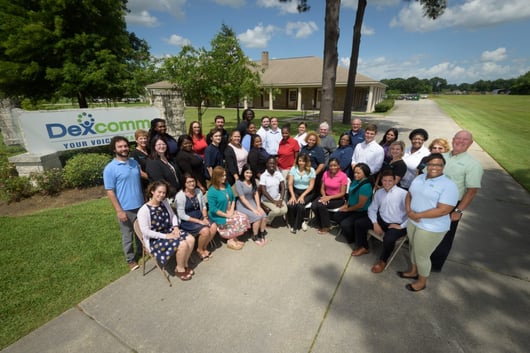 Why Dexcomm
Each position at Dexcomm is more than just a job; it's a career! We want our employees to feel the same way, which is why we prioritize having the best benefits in the industry. We're proud to foster a work environment and company culture that allows our employees to help others and build strong bonds with each other.
Employee Benefits:
Health Insurance
Health Savings Account
Supplemental Insurance
Employee Assistance Program
Vacation and Birthday Pay
Paid Time Off
401K Retirement after one year
Career Advancement
Paid Training
Coaching & Mentoring Programs
Employee Library & Book Club
Stocked Break Area
"Working at Dexcomm is like a family because everyone knows everyone, and we support each other as such."

- Kindal

"The most rewarding part of my job is when I'm able to help people - when I can put distressed callers at ease and get them what they need."

- Arnold
---
Company Overview
Since our inception in 1954, our goal has always been to provide compassionate, professional concern for our customers, callers, colleagues, and community.
We form long-lasting partnerships with our clients, which is why our success is in helping as many customers and callers as possible.