Frustrating your clients when they have to hold, leave a voicemail, or call back at a later time is a sure way to send them looking for help from your competitors. Our overflow answering service provides professional operators to handle your excess calls, to your instructions, whenever you need.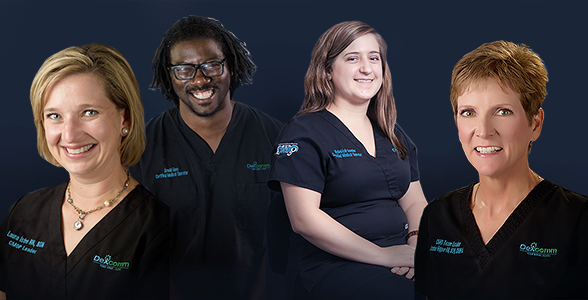 Reduce hold times
Overflow answering service from Dexcomm provides your organization with assistance during periods of high call volume. Instead of forcing callers to wait for an available operator, or to leave a voicemail and wait for a return call, excess calls are routed to our live operators who are ready to assist. Reduce hold times to provide faster service, increase your customer satisfaction, and have happier, less stressed staff. With a 99.9% uptime record, we're always here to handle your excess calls whenever you need us.
Sitting in your chair
Dexcomm overflow answering service operators answer on your behalf to act as an extension of your office. Our overflow answering services are 100% customizable and can be molded to fit the needs of your business. Call scripting is customized to your instructions, ensuring we gather only the information you request, in the manner that you expect. Messages can be sent to the appropriate personnel via email, text message, or fax, and our advanced software can be configured to upload data to your existing system or build reporting to give you insight about your calls. Account customization makes the differences between your office and our overflow service indistinguishable.
Staff Stressed Out?
High call volume can distract your office staff and have a negative impact on how your business is represented whenever a client or potential client contacts your office. Overflow call support through Dexcomm makes it easier for your staff to focus on their primary responsibilities without your callers being neglected. Our highly trained representatives who handle your overflow calls are only paid while doing work on your behalf, making overflow answering an affordable alternative to utilizing your existing office staff for telephone support.
Reduce repeat calls
Our overflow answering service agents can provide information about your office hours, holiday schedules, events and more when you are unavailable or are receiving a large number of calls. By providing this information and working to resolve your customers' inquiries, our service can help reduce the number of callers who have to call back in order to reach a resolution.
Losing business due to lost or missed calls?
Dexcomm has a solution, and it doesn't involve hiring additional staff. Our overflow answering service provides you with as many phone operators as you need to meet your demand. By ensuring every call is answered by a live person, you'll avoid missing any opportunities. Dexcomm will take your calls and deliver them to you as a page, phone call, fax, text message or via a system of your choice, allowing you to handle other tasks as needed.
The Dexcomm Difference
Since 1954, Dexcomm is an experienced answering service you can trust to handle your excess phone calls. We pride ourselves on partnering with our clients to provide excellent service and treat your customers as our own. If you're short staffed, lose phone service, or experience an unexpected spike in call volume, we will be available.