With the boom in technology, a non-stop business operation expectation has developed. Consumers are no longer satisfied with companies who make them wait to be heard. If your business is not available for your customer when they need you, someone else's will be.
According to an article written by a company called Circadian, who assists companies with implementing successful 24/7 operations, this is something to consider if you are pondering the need to commit your staff to after-hours communications:
We are taught that people should not be treated like machines; however, if we thought of people as highly complex machines, we might have a greater respect for their limitations.

Machines have design specifications and operating manuals that tell us the conditions under which we can use them. The human body is an exceedingly complex machine with very constrained performance limits, which we must respect if we are to reliably perform the tasks modern society demands.

We're not designed to operate continuously around-the-clock, or on irregular schedules, or with consistent performance no matter the time of day or night. Human performance doesn't occur linearly.

With these and many other such limits to human physiology in mind, think carefully about the tasks you are expecting people to perform, the work and rest schedules you expect them to live, and the workplace conditions you have created for them.
In addition, a 2015 study by a professor at Boston University's Questrom School of Business, stated that "managers could not tell the difference between employees who actually worked 80 hours a week and those who just pretended to." (hbr.org). It strongly suggests that overworking staff actually becomes fiscally counterproductive.
Knowing this, a big question for many small or medium-sized business is: How do you remain "on call" 24/7/365 without exhausting staff members? We have two suggestions for you.
Option A) Give your clients more than one option/method to contact you.
We certainly hope that you already have a voicemail set up if your coverage does not span 24 hours. This is a great place to start, but it is only satisfying a portion of your customers and potential customer base. With so many people completing a portion of the buying process online, we recommend that you also give your clients a way to electronically connect with you.
When selecting additional communication method(s), it is important to keep these two things in mind: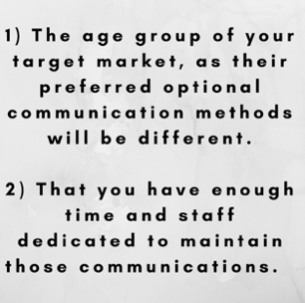 Option B) A strategic partnership with an answering service.
Voicemail and alternative contact methods will certainly help you increase your customer outreach. But, if you want to capture all of your business opportunities as they come in, partnering with an answering service can help you achieve this. Not only will you be able to connect with your clients 24/7 without overtaxing you or your current employees, but you will not need to directly manage additional staff or operations either.
Rolling over the phones from your office to your answering service should be a seamless process. These are two things to keep in mind when selecting an answering service to help you with your 24-hour coverage: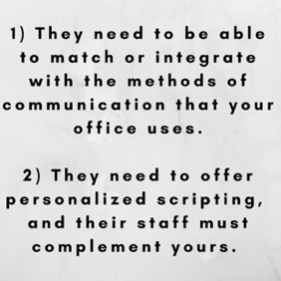 Based on what we have learned over the years about managing a 24/7 operational schedule, having the appropriate coverage is imperative. In addition, finding and implementing methods that will not overtax your employees or overburden your pocketbook will be the key to your success.
Recommended Article:
Ten Customer Service and Customer Experience Trends for 2017 ~ Forbes
Marketing Research Chart: Do Different Age Groups Prefer Different Channels? ~ MarketingSherpa