A company's culture should be the living representation of its stated core values. Culture and core values are not only experienced within a company, but they also extend to its clients and customers. It's culture that adds a premium to the business experience and fosters an environment to build and maintain partnerships and relationships. It's a business' core values that should be reflected in its "why."
At Dexcomm Answering and Communications Services, our "why" is simple: To Bring Compassionate, Professional Concern to Communications.
It's concern for others, compassion and personal growth, that are at our core. We operate as an extension of your business, and we take that representation seriously. As a premium quality service provider, we align with businesses that want to represent similar trusted and compassionate practices, whether it be in home services, medical services, the energy or legal industries, or end-of-life care.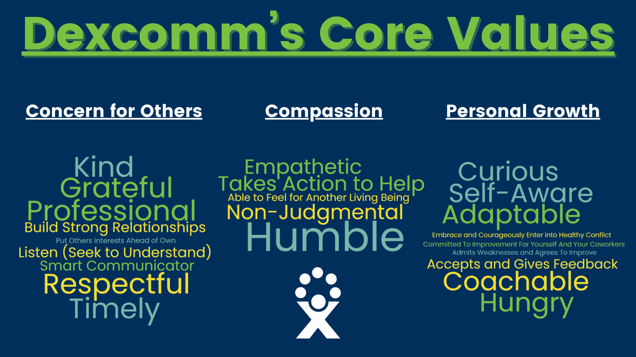 Every call is an opportunity to provide empathetic and compassionate touches to your businesses' callers, by actively listening and leaving the caller confident their needs will be met. We aspire to do this for every caller for each of our customers.
Yes, we utilize a multi-tier quality assurance system to ensure our standards are met and our core values are reflected in each call. But, more importantly, we invest in the personal growth of our employees, because we believe the best version of a company is one that is employee-centered.
Employee-centered culture ensures a healthy business environment for our coworkers, customers, callers and our community, and also leads to the best product. At Dexcomm Communications, the strength of our product is the strength of our people.
We don't merely recite our core values, we live them. We are accountable at all levels of our business to our ethos, and we ensure that we practice what we preach. Just as culture is something that is lived and breathed, so too, are our core values. The "27 words" that makeup our core values are words we aspire to live up to, for our clients and ourselves. Our goal is to be better than ourselves, because we see personal growth as the catalyst for all other growth.