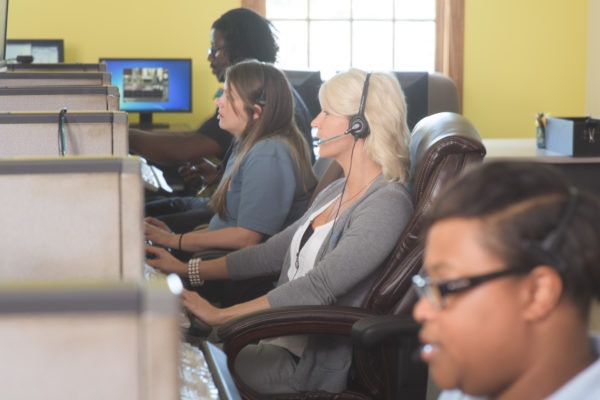 Implementing a call quality assurance program will help you to ensure that the callers at your cosmetic practice are receiving the best experience possible. Because Dexcomm's quality assurance program has its roots in the medical industry, we felt as though we would give you some insight into how a partnership with us can help you to improve your customer's overall experience by analyzing your reception quality and enhancing your call handling.
Implementing a QA Program
Before purchasing Dexcomm in 1989, President Jamey Hopper was a hospital administrator. When he took over, there was no quality assurance program. In developing questions for grading operators, Jamey took a cue from the industry standards established by ATSI and CAM-X(Organizations like ATSI and CAM-X ensure standardization in the call answering industry). These organizations sporadically and anonymously call their members to ensure quality control. Afterwards, a score is sent based on the quality of the call. Taking a page out of their book, Jamey decided to develop quality standards to ensure excellence in-house. Since then, he has developed an internal grading system which is held to an even higher standard than those of parent organizations like ATSI and CAM-X.
Since implementing a quality assurance program, score averages on calls have risen steadily each year, and Dexcomm has won a CAM-X Excellence Award for the past nine years in a row while winning "top ten" six times. Dexcomm's internal standards for grading calls encompass everything from tone of voice ("the caller should hear your smile") to verifying the caller's information by repeating it back to them.
A Well-Rounded Team
Our quality assurance team is led by Felicia Dunumba. She started at Dexcomm as a customer service representative/operator, and worked as a trainer before taking on the position of quality assurance director. Part of her involvement includes grading calls daily to ensure that our customers are consistently satisfied with our service. Her quality assurance reports are then shared once a month to the whole team at Dexcomm.
In order to ensure quality for all callers, and to monitor HIPAA compliance—since 2002, every call is recorded and then graded afterwards. Felicia highlights the initial reluctance of operators to this new method of call improvement—she states that everyone was thinking "oh no, Big Brother is watching now." Soon enough though, when the quality of Dexcomm's calls began to improve, these fears were alleviated. Instead of just listening to recordings of calls after the fact, our graders also have the ability to "hook up" with operators on live calls and give feedback directly. While this practice still exists at Dexcomm, with improved technology, graders can now just as easily remotely monitor live calls in order to give instant feedback to operators. Even our operators working remotely are monitored to ensure HIPAA compliance and consistent call quality.
Bridging Training and Quality Assurance
The goal of Dexcomm's quality assurance program is continual improvement. From the beginning, customer service representatives are trained on the skills that will allow them to attain the service points that they will need in order to get a high quality score. Because training and quality assurance go hand-in-hand, Felicia works very closely with the training department to instill Dexcomm's service standards. To ensure that compliance with these standards continues, every operator is given a weekly "quality assurance" score to understand what they are doing right and in which areas they need to improve. Also, each operator must listen to between three and eighteen of their peers' calls a week. This helps our operators improve their calls because it makes them aware of their own voice-something that can be transformative!
In keeping with the Dexcomm tradition of open communication between managers and employees, Felicia alerts team leaders about low quality scores so they can address them with operators. She also lets them know about improvement or strong points of the agents, so that team leaders can commend their staff on jobs well done. If an employee has a particularly low QA score for the week, they must listen to 15 extra calls, and undergo QA coaching to assess struggles through positive reinforcement. This allows operators to see firsthand how the grading process works and scrutinize their own calls more closely. Plus, listening to their own calls lets operators build on their strengths and target specific areas for follow-up.
The introduction of a quality assurance program at Dexcomm has certainly helped the company produce a more consistent call experience, and establish itself as a premiere answering service. By adding Dexcomm's award-winning quality assurance program to your cosmetic practice, you too can ensure that each customer who calls your office will receive the same level of care and attention to detail-helping you to both capture and retain patients.
Let our experienced staff help you create a memorable experience for your callers through our "mystery shopper" program. We can confidentially analyze your call handling quality and present you with a reports suggesting areas for improvement. Call Dexcomm to start improving your customer experience today: 337-236-8300
---