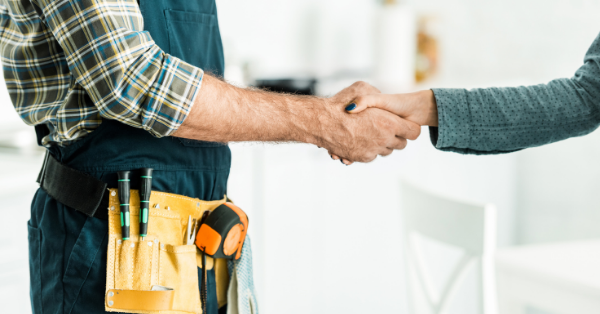 You already know that your team has the expertise to solve your customers' air-conditioning and heating issues quickly and affordably, so how do you stand out from your HVAC competitors? The best way is to deliver an easy, friendly, professional experience so that customers want to call your company again and tell their friends and colleagues about you.
1. Create a Lasting Impression
Make a great first impression! Have a professional website that describes who you are and what your customers should expect from you. What are your company's values? Do you offer a 24-hour service or guarantee all requests for same-day service? Tell your potential customers this and give them clear ways to reach you. Make your phone number easy to find or provide webchat services that allow a customer to reach out in whatever way they feel comfortable.
2. Schedule Service Requests Quickly and Efficiently
When customers contact your company, make sure they're greeted by friendly voices who are prepared to schedule their service needs. Make sure your phone staff can provide the important information your customer needs so that they can make an informed decision to do business with you. If you use a call center or live answering service, outfit them with the tools to help your customers and make sure they can interface with your customer management database. This way your call center can have access to past service information, quote prices and then schedule jobs. Your callers want reassurance their service needs are being scheduled during the first call and if your customer has to wait around for someone to get back to them, they may find another provider during the wait.
3. Treat Customers with Respect and Compassion
Make sure your technicians delivering service to your customers are friendly, professional and respectful of your customers' homes and businesses! Your customer is unlikely to call you back to fix a problem if their last impression was of your service technician leaving dirty footprints on the carpet or cigarette butts in the yard. Your technicians are providing a valuable service to people in need, but those customers have a lot of choices. Set an expectation that your service technicians treat your customers with gratitude and the utmost professionalism. This will help your customer remember you and make them feel comfortable inviting your team members into their homes again in the future.
4. Be Honest and Transparent with Customers
Deliver on your promises! Arrive on time. Provide accurate quotes that don't hide charges. If anything threatens your ability to arrive at a predetermined time with a customer, be proactive and let them know so that they can determine whether they want to continue to wait. If the scope of work changes after a quote is provided, inform your customer immediately. Transparency with customers allows them to make informed decisions about how to move forward. Customers are happiest with providers who are honest and open with them.
5. Follow up to Measure Customer Satisfaction
Check in on your customers! After the service is complete, find a way to check in to make sure the customer's issues are resolved and that they are satisfied with your service. If you want that customer to come back or to tell their neighbor to call you, you have to show them you care about them. Checking in is a great way to do that. There are many customer management tools on the market that can help automate these check-ins. Research some and find one that works best for your business.
These five simple considerations really can make a difference between gaining a customer for life or just being another service provider in a crowded market. Remember to make a great impression. Once your customer decides to reach out to you, make them happy they did, and be easy to do business with by having great people answer your phones. Guarantee that the technicians you're sending in to your customers' homes are professional and show your customers that they're happy to be there. Deliver on your promises and be transparent when anything gets in the way of you meeting the expectations you set with your customer. Finally, check in on them after the service to make sure they got everything they need from you.
Remember that there are many tools to help you with all these items, including web design teams, great call centers and customer management tools. Be aware of what's in your marketplace to help you stand out from your competitors. Almost all of them are inexpensive compared to lost customers and opportunities due to poor customer service.