Many companies, like ourselves, have stated that they are beginning a renewed focus on their customer service experience for 2018. While it is a logical approach to business, it is a daunting task as well. The payoff in the long run, to beef up your customer experience is well worth the investment, but many companies fall short of truly becoming customer centric. Why? It requires a large commitment to planning, staff, time, and money that many establishments can't sustain. A recent Forbes article sums up this sentiment perfectly:
"Investing in customer experience is an act of bravery because often the returns don't happen right away, and many boards and CEOs are not willing to wait around for that payday. And there's truth to the fact that it's costly and time consuming to improve customer experience."
What is customer service orientation?
Most people are aware that when the economy changes, customer spending habits also change. During the Great Recession, which officially lasted from December 2007 to June 2009, it wasn't just spending habits that changed, but the way that customers engaged with brands and businesses. Due to technology and e-commerce, consumers had access to a great deal of substitute products. Soon, companies that were able to offer more value for dollar spent were the ones who thrived. Amazon, Southwest Airlines, and TD bank are just a few of the companies who recognized that being able cater to specific customer needs and creating an excellent customer experience was the key to gaining and retaining loyal customers. This customer centric strategizing has now become the market standard to meet.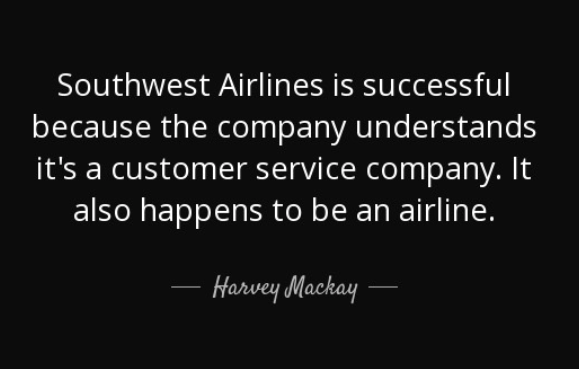 Why is it important to you?
Just like employee loyalty, brand loyalty has become a dwindling concept as well. People are less willing to be forgiving for missteps in service than ever before. In order to try and counteract this before it happens, staying close to your customers is the only way to combat dissatisfaction before it occurs.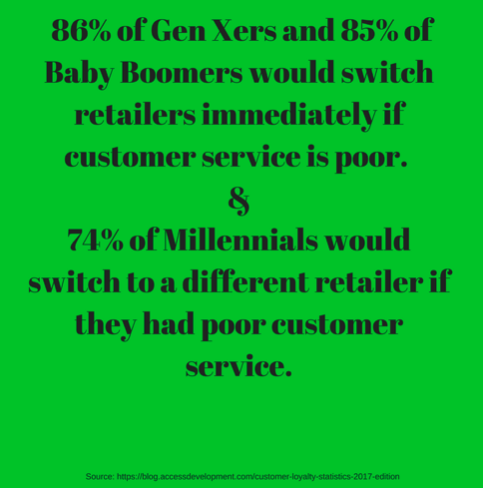 On the flip-side of that coin is what people do when they are enthusiastic about your brand. With all of the review and rating opportunities that abound, and which are visible at the click of a button, it is imperative to continuously wow your customers. According to Ryan Erskine a digital branding expert and Forbes contributor, a set of 2016 statistics revealed that 90% of potential customers will read reviews about your business, and 84% of them will value these reviews as much as they do a personal recommendation!
One can only imagine that the popularity of this pre-purchase behavior will continue to stick with us from here on out. And there is no doubt that it has become a non-traditional Word of Mouth(WOM) source that needs to be closely monitored—due to the fact that WOM is still the number one source of lead generation for companies.
Involving Your Staff
According to the business dictionary, customer orientation, which is what leads a company to creating an excellent customer experience is defined as: "A group of steps taken by a business to support its sales and service staff in considering client needs and satisfaction their major priorities. Business strategies that tend to reflect a customer oriented strategy might include-developing a quality product appreciated by consumers, responding promptly and respectfully to consumer complaints and queries, and dealing sensitively with community issues."
One thing that many companies forget to do is to get the entire staff on board. From the CEO all the way down to the newest hire, everyone needs to know and understand what being customer centric is all about, and most importantly, realize that they are a vital part of the equation.
According to our Operations Manager Jarret Going, "If you take care of your staff, they will take care of your customers." Both Walt and Jarret bring up very important points about the importance of staff members in a company's endeavors. For an employee to be engaged and desire to perform at their peak for you and give your customers the experience that you are looking for, they must feel as though their needs are being met, too.
No matter what your feelings are about the new move for employees to "find happiness" in their jobs, the facts don't lie. According to a recent Bureau of Labor and Statistics report, in just two years, from January 2014 to January 2016 average employee tenure has gone down from 4.6 years to 4.2 years. This signals that, like many employers were already aware of, long gone are the days where employees are willing to stick around and work under conditions that they deem less than desirable.
Skimping over the most important link in your supply chain—your employees—will certainly ensure that you will struggle to provide a consistent satisfactory service offering. Why? Because you will either be taking away resources from your customer experience endeavors to hire and train new employees, or even worse, you will have a disengaged workforce who won't be putting their best foot forward for you.
By simply treating your employees with the dignity that they deserve, and making them feel valued, you will be able to present your clients with a happier, more engaged workforce. Paying fair wages for work expected from your employees, giving them the tools that they need to do their job with confidence, and providing them with an outlet to vent grievances or provide you with constructive feedback, are just a few ways to encourage a more productive workforce and, in turn, improve your customer service experience.
Keeping Your Company Motivated
As discussed earlier, many companies fall short of following through with efforts needed to create an ongoing customer centric experience. With a plethora of success stories available, it is easy to fall in the trap of trying to emulate something that worked for someone else's business. Borrowing ideas that will work within the context of your company is fine, but trying to implement something that is not a good fit, nor feasible, is a great way to have you and your staff lose motivation quickly.
No one company is alike, so taking time to find out what will work for you, your customers, and your employees is your path alone, and should be based upon the time, staff, and dollars that you have to reasonably and continuously devote to your plans.
Read More From Sources Used In This Blog:
https://www.federalreservehistory.org/essays/great_recession_of_200709
https://www.forbes.com/sites/blakemorgan/2017/12/05/five-trends-shaping-the-future-of-customer-experience-in-2018/#249d6482d9c3
https://www.entrepreneur.com/article/244590
https://www.inboundlogistics.com/cms/article/getting-employees-on-board/