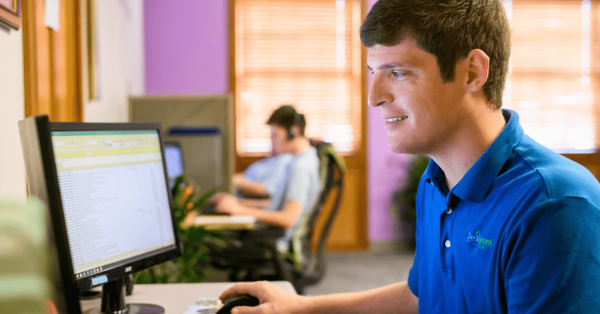 At Dexcomm, call data integration allows us to offer more to our customers than traditional answering services.
Syncing your field service platform with Dexcomm's software allows us to field calls and appointment requests and schedule them right into your own system. For example, many of our customers choose to integrate Dexcomm's software with ServiceTitan, a widely used scheduling platform that service companies utilize to book appointments and dispatch their teams.
Let's walk through the key benefits of ServiceTitan integration, as well as the best practices you can follow to make the most of it.
What Are the Key Benefits of ServiceTitan Integration?
There are a number of benefits to integrating Dexcomm's call center software with ServiceTitan. Some of the biggest benefits include the following.
Improved Operator Efficiency
ServiceTitan integration allows call operators to work more efficiently within one system rather than toggling between multiple solutions during a call. The improved efficiency also minimizes distractions and allows operators to be present and engaged during calls.
High-Quality Call Experience
Customers can take care of everything they need on one convenient call, including booking any service or installation appointments. Plus, because operators are less distracted and more efficient during the calls, data integration offers customers a better, higher-quality call experience.
Seamless Communication
When call data is pushed to and from external platforms such as ServiceTitan, a seamless connection ensures everything is up to date and everyone is on the same page. This leads to a stronger partnership between your team and ours, enabling us to serve as a true extension of your business.
As a result of ServiceTitan integration, real-time updates pushed to your system eliminate the need for unnecessary, redundant data entry when service appointments are booked. By reducing needless tasks and rework, you can ultimately save your business time and money.
Effective Lead Capturing and Booking
When call operators are equipped to work more efficiently, it shows. Each of these benefits contributes to effective lead capturing and booking, ultimately helping to grow your business and increase your revenue.
How to Make the Most of Your ServiceTitan Integration
ServiceTitan integration is immediately beneficial, but your business can reap even more rewards by following a few tips and tricks.
We always recommend keeping it simple and creating a process to review the jobs booked by our call center versus those booked in-house. Make it a point to inform your technicians and greater team as to how the process will work and what to expect based on your call center's capabilities.
Another best practice to keep in mind is to avoid rushing the process, skipping setup steps, and ignoring key details, because doing so will likely result in a less-than-stellar call experience for your customers. The more time you can take to fully integrate and build out the process, the better your answering service will be. Also, avoid starting your answering service on a weekend—kick-starting your integration during the week is more likely to result in smooth sailing.
Along with taking your time to develop a comprehensive, smooth-running process, it's also important not to assume the call center will understand your unique needs if you don't communicate them. By being as open, engaged, and transparent as possible with our team, you can improve your results and strengthen our partnership as a whole.
There are also varying levels of integration, and choosing the best option for your business will only enhance your answering service. One level of integration is customer lookup, or ensuring existing customers are in the database and verifying their information or creating new customer profiles within ServiceTitan. Another involves completing the job intake form and booking the job on your company's calendar.
Take Your Answering Service to the Next Level with Call Data Integration
Call center data integration with systems such as ServiceTitan can truly take your answering service (and your business) to the next level—especially with the right strategy and partnership in place.
Curious about our API integrations and how they can upgrade your answering service to improve your efficiency and deliver a better customer experience? Schedule a call to learn more about Dexcomm's integrations with ServiceTitan and several other widely used solutions.