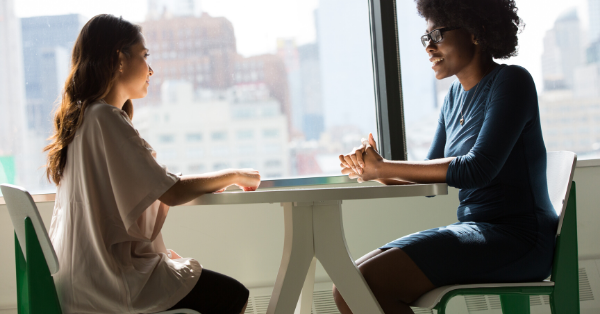 After reviewing a number of answering service companies, you've most likely decided that an answering service could greatly benefit your business.
You know that your customers will appreciate the added value of 24/7 availability, but you aren't sure if a "premium" answering service is worth the cost. Is there a difference between a premium answering service and a commodity answering service?
Other than price, one of the major differences between a premium answering service like Dexcomm and a commodity telephone answering service is empathy.
What is Empathy?
Empathy is the feeling that you share and understand another person's feelings. When you have empathy, you can put yourself in another person's shoes and experience their emotions.
"Our ability to see the world from the perspective of others is one of the most crucial tools in our business toolbox."

-Entrepreneur.com
Why Is Empathy Important in Business?
Empathy is a skill that is important in daily life, but in business it is especially valuable. Having empathy in the workplace allows for increased sales, accelerated productivity, greater competitive advantage, and expanded engagement.
In short, when your business shows empathy, customers are more loyal and give more positive referrals. Why wouldn't they be? If you give great service, they'll be sure to make more purchases/appointments and tell their friends!
The Impact On You & Your Employees
Choosing Empathetic Partners
When choosing an answering service, you want to ensure that their call operators are empathetic, but you also want to make sure that the company as a whole is empathetic.
While your customers will be interacting with their empathetic and compassionate agents, you will be interacting with their account managers, billing department, etc.
An empathetic partner will have account managers and billing representatives that give you that same empathy they give your customers. This will create a business relationship that is productive and adaptable.
The Impact on Callers & Customers
You may find an after hours answering service that has easy-to-understand English speaking operators, but how are they speaking to your callers? Having a live operator is important, but an empathetic operator is essential.
An empathetic operator will not only assist your callers and customers with their issues, they will listen to them. Imagine you have a caller on the line upset that their toilet is flooding all over the house. A good operator will only take their call, ask for their information, and book an appointment. An empathetic operator will put themselves in the customer's shoes.
They'll understand the caller's pain points, acknowledge their issue, provide compassionate service, and also get the right information to book an appointment.
While both operators can get to the same goal, only one will create a customer who is beyond satisfied. A happy caller can turn into a happy customer, which in turn will create positive reviews for your business.
The Impact On Your Pocket Book
Surely, one of the major reasons you are searching for a new answering service is due to finances. You've found that your business is losing money due to a lack of after-hours call support, or any number of reasons.
You're hoping that a new answering service will increase your revenue and help your company reach those sales goals. An answering service can make this happen, but they'll need empathy!
When your answering service doesn't have empathy, they can give callers a negative impression of your company. No one wants to feel like they are talking to a robot or simply answering questions from a script.
When an answering service has empathy, they will positively impact your callers, which in turn can transform callers into customers.
"It's hard to place a dollar amount on empathy, that's up to each company."

Want to know the ROI on empathy? Simply calculate the cost and value of a new customer to your company.
Say one new customer can be worth up to $3,000 to your company. (This may seem high, but consider whether your customer purchases a new HVAC unit or schedules a series of appointments at your practice. That $3,000 can add up quickly!)
Now determine if you and your business are willing to lose $3,000 to a lack of empathy. Or, if you'd rather gain $3,000 to empathy.
Ultimately, the choice is yours, but make sure it is one that will benefit your company for time to come.
Key Points
Your customers don't just want the ability to reach your business 24/7, they want to reach someone who can show them compassion and express empathy.
Once you put empathy at the forefront of your business, your customers will enjoy a great customer service experience, and likely tell their friends and family.