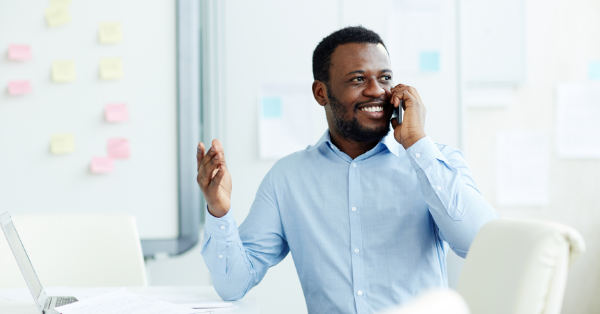 With the amount of phone calls that come in and out of a typical office, it's safe to say that we've all taken a few in our lifetime.
Depending on who's on the other line usually determines our behavior over the phone, which can typically range anywhere from a casual to formal tone. But when speaking with a customer it's important to remain positive and professional and attempt to engage the caller so that your customer can leave the conversation feeling satisfied.
Surely, we can all recall a telephone conversation that left us feeling less than fantastic. Imagine your customers feeling this way when they finish speaking with you. I can assure you that this will begin to negatively affect your business.
Below are five ways to win your customer's heart through a phone call so, you can always find yourself on the right side of the conversation.
1. Always be Prepared.
Each year U.S. companies lose $62 billion due to poor customer service, and a whopping 78% of people who have had a bad customer support experience are likely to choose another business the next time they shop for that product or service.
The first step to prevent this from happening is to always be prepared before you answer the phone. If your company has a script to follow, be sure to memorize it and have a copy in front of you.
If you find that customers are asking a lot of questions that you can't answer, talk to the right people and develop an answer list for common questions. Have a pen readily available in case you need to take a message for someone else or a follow-up is involved.
Being prepared for each call will help you relax, and let your caller know that you care and are present.
2. Engage in Active Listening.
When you are on the phone with a customer it's best that throughout the conversation you remain engaged. Listen attentively while the person on the other line is speaking, paraphrase and reflect what they have just said, and withhold any judgment in your tone when responding.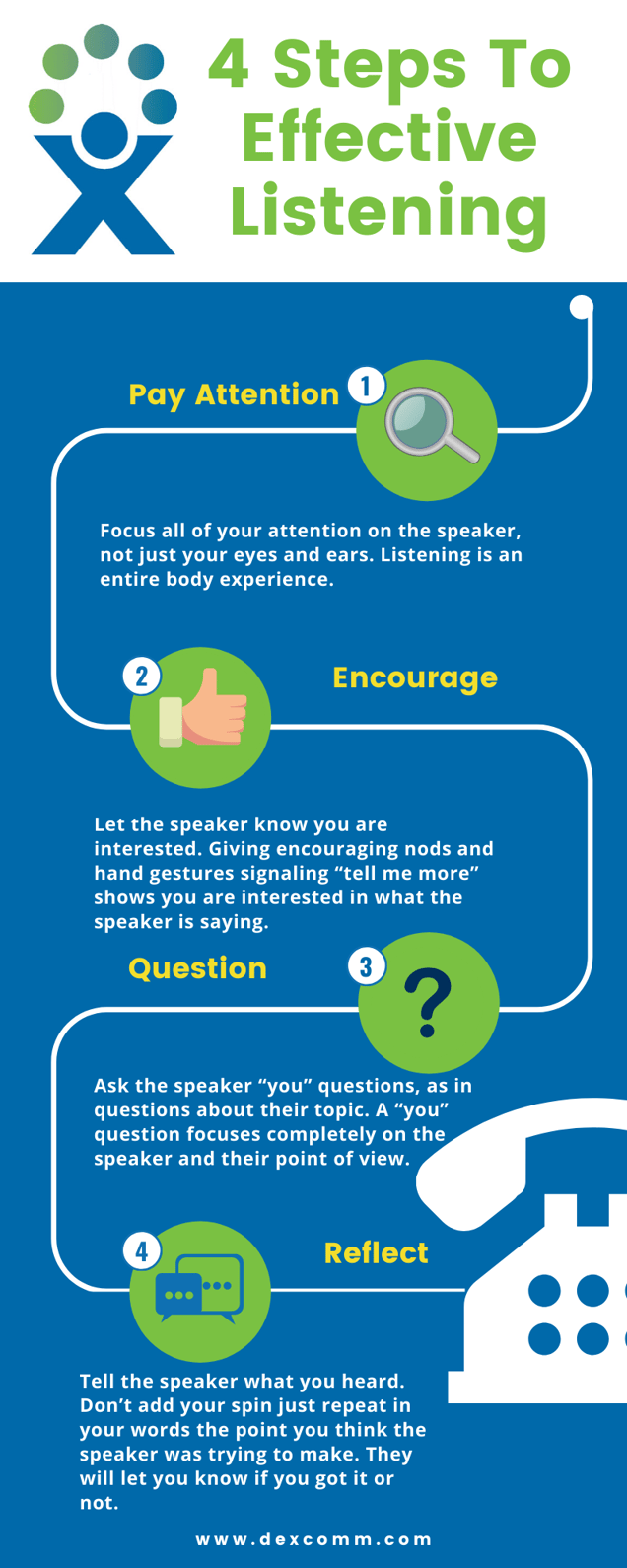 When you practice active listening, the caller will feel like their voice was heard and that they are valued. Pick up every call with the intention of listening to the customer and if you feel the urge to interrupt, stay on track by asking relevant questions. Active listening is the foundation for a successful conversation.
3. Identify Yourself and the Caller.
Always identify yourself at the beginning of the conversation. Depending on your company script, you might want to state your name when you answer the call.
Ex.) "Thank you for calling ABC Corp. This is John. How may I help you?"
This is your first interaction with the caller, so it's best to avoid sounding scripted. Smiling while you speak will help you sound positive and helpful.
After you've introduced yourself be sure to get the caller's name, and pronunciation correctly. People love hearing their names. Think about when you're on a phone call and the caller consistently repeats your name, doesn't it make you feel like they were listening to you? "Thank you, John," sounds a lot better than "Thank you."
When the caller gives you his or her name, repeat it back to them. By addressing each caller by name throughout the conversation you show that you've payed attention to detail and have been actively listening.
4. Don't show what you don't know.
It's inevitable that we don't have the answer to every question, and that's ok! However, immediately letting the caller know that you don't have the answer will not benefit you or your caller. Instead, offer to help your caller find the requested information.
Here are some examples of foolproof replies for when you find yourself wondering What do I tell a caller when I don't know the answer to their question?
I would be happy to look into that for you.

Great question! Let me see what I can find out for you.

Let me put you in touch with the person who can answer that question best for you!
Ensure that you help the caller in some way. Even if you can't help them with the exact issue they are calling about, provide direction like the name and number of a person who can help them.
5. Keep a Positive Tone and Summarize the Conversation.
On the phone, where face-to-face interaction is impossible, tone of voice takes on significant importance. Someone who technically answers questions but is blunt, rushed, or rude really doesn't enhance your company's image and may even cause damage to your relationship with a customer.
Give the person on the other line your full attention while remaining calm and positive. When you summarize the conversation at the end of the call this ensures that you are truly hearing what the customer is saying. If there was any confusion in communication, it will give the caller an opportunity to restate their needs. Your customers can leave the conversation feeling like they were heard.
Conclusion
At Dexcomm we think that our customers should never leave a conversation unsatisfied.
No matter the time of day, when partnering with Dexcomm, we are representing you and your business. It's always important to be positive and engage callers so that they can leave the conversation as a satisfied customer.
As an extension of your office we work to win your customers hearts every day and we are able to do so through just a phone call.