HIPAA defines a mobile device as any device that allows storage of data on itself by using it's on-board memory or within the SIM card of a memory chip. Mobile devices can be used to send and transmit data, which may include Protected Health Information (PHI or ePHI) under HIPAA. Sending and transmitting PHI or ePHI through these devices has proven to be risky because of the unique security risks involved.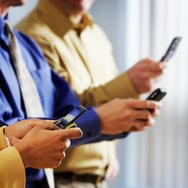 Popular handheld devices include stand alone PDAs like Palm and Apple's iPod touch, iPhone, Android phones, Blackberry, etc. Also included are tablets such as Apple's iPad and Microsoft's Surface. HIPAA requires that PHI be safeguarded against threats to security, integrity and unauthorized use.
For detailed information on HIPAA and Mobile Devices click here for the Dexcomm eBook "Prevent Your Mobile Devices from Causing a HIPAA Violation".