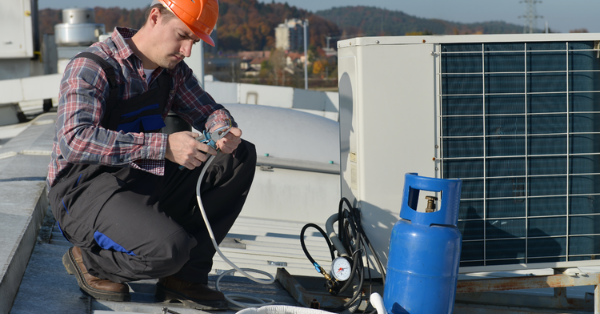 The HVAC offseason is the perfect time to begin or increase the marketing efforts of any HVAC business. There are several marketing methods that you can incorporate into your business plan including sending out traditional mail and using local advertisements such as flyers, billboards, newspaper ads and radio ads.
Any of these may work for your business, but it is best to begin with those that have proved successful for you in the past. While these forms of HVAC marketing are more traditional, you should also try email marketing and increasing your social media presence.
Now that you've decided to increase your marketing efforts, consider something very important: Are you ready to handle the customer response?
How can I handle call overflow after marketing?
You may be thinking, "YES!" It's the offseason and more calls from customers is exactly what you've been waiting for. But, no matter how many callers you get, if you aren't answering each and every call, your marketing efforts are going to waste. Unless you have a nice-sized in-house office staff, answering the influx of calls from your recent marketing in addition to your usual call traffic will prove difficult.
Note: Don't rely on your voicemail to answer every call, especially for an HVAC business. Most callers are either calling for an emergency or they are sitting at their kitchen table with a list of companies to call. Neither of those types of customer is going to leave a voicemail and hope that you get back to them. As soon as the voicemail starts, they are hanging up and calling your competition.
There are ways in which you can guarantee that all of your calls are answered. The two most common are an IVR system and an answering service.
What is IVR and can it work for my HVAC business?
An IVR system could be described as an interactive voicemail. You may not recognize the term IVR or interactive voice response system, but you surely have dealt with one before.
IVR systems usually sound like this:
"Thank you for calling Harry's HVAC. To hear business hours, press 1. To get directions, press 2. To speak to a representative, press 3. To hear your options again, press the pound sign."
With an IVR system, all of your calls are definitely being answered, but they lack any human touch and can be irritating at times (I'm sure you've had at least one frustrating IVR experience).
Additionally, if you don't have any staff on the clock when a caller presses 3 to speak with a representative, their call will be directed right back to voicemail (*winces*).
What is a 24/7 call answering service and can it work for my HVAC business?
Your other option is to partner with an answering service. An answering service works as an extension of your own staff. (At least they should). You may think that you have never interacted with a call answering service before, but if you have ever called a doctor's office to make an appointment or reschedule, you most likely have. You just couldn't tell.
A quality after-hours answering service should represent your business exactly as you would; this way, your callers think that they are talking to your staff.
With a dedicated 24/7 call answering service, all of your calls are answered and contain that human touch and compassion that callers can appreciate. An answering service can answer all of your business calls, answer only rollover calls (calls that ring on your office phone but are not picked up), answer only on certain days such as weekends or holidays, answer after-hours calls, or whatever variation your business needs.
What is the difference between an IVR system and an answering service?
The main difference between an IVR system (interactive voice response) and an answering service is quality and cost. You can determine which is better for your HVAC company with this quick read, ''Are IVRs Better Than Answering Services?"
How can you prepare your HVAC website for more traffic?
The customer response from additional marketing is no longer limited to calls and store visits. Customers who hear or see your ads and other marketing efforts will also be looking you up online.
How you present your business online can make or break your contracting business. Do you have a well-formatted website that is user-friendly? And what about your social media presence?
"We live in a world where your online reputation can be your strongest asset or your biggest liability." -Forbes
These aspects are not something to ignore because they make a huge impact on your business.
No need to stress! These are all things that can be easily updated or created.
How do I make my HVAC website customer-ready?
Your website is a digital version of your brick-and-mortar business. People will visit it before calling or visiting your shop and expect a lot more from it.
Luckily, creating an HVAC website that customers will enjoy isn't difficult. These guidelines will help you ensure that your customers are staying on your website and not running to Google for the competition:
Make it mobile-friendly
Make sure all of your contact info is easily accessible and visible.
Include customer reviews.
Set up a chatbot.
Use videos and photos — not just all text.
Include calls to action (CTAs).
Don't use stock photos.
Make sure it's quick. People will not wait for a page to load.
Read "HVAC Website Design: Format Your Site With Clients in Mind" to go more in-depth about these guidelines and see some examples of how to use them.
How do I make/keep my HVAC social media customer-ready?
With an estimated 2.65 billion people using it, social media has a huge impact on the success of your business. If your HVAC company isn't already set up on at least one account, we strongly recommend that you do so.
For most businesses, HVAC businesses especially, Facebook is the most beneficial social media platform to use.
On social media, your HVAC business should:
Use hashtags.
Incorporate video.
Engage with users.
Make it personal.
Post consistently.
Use high-quality images.
Read "Social Media Marketing for an HVAC Business" if you would like to go into detail on each of these and see more examples.
Marketing your HVAC business in the offseason is a great business technique, but preparing for its effects is necessary to guarantee that all of your marketing efforts and dollars don't go to waste.
Before you begin your offseason marketing, check and make sure that your
staff (call operators, secretary, answering service,website and social media are all ready to handle the influx of customers looking for information about your business.