The goal of your business is to succeed, but you cannot succeed without stellar customer service. Today's consumers have endless options when it comes to picking out their service providers, and it's your job to make sure that your business stands out from the rest.
Customer service is key to achieving this, but many companies struggle because they fail to address their customers' problems. One area that often is to blame for this is missed calls and service requests. You may be wondering, are IVRs or live call agents best for me? And while both options have their pros and cons, the answer depends on your business.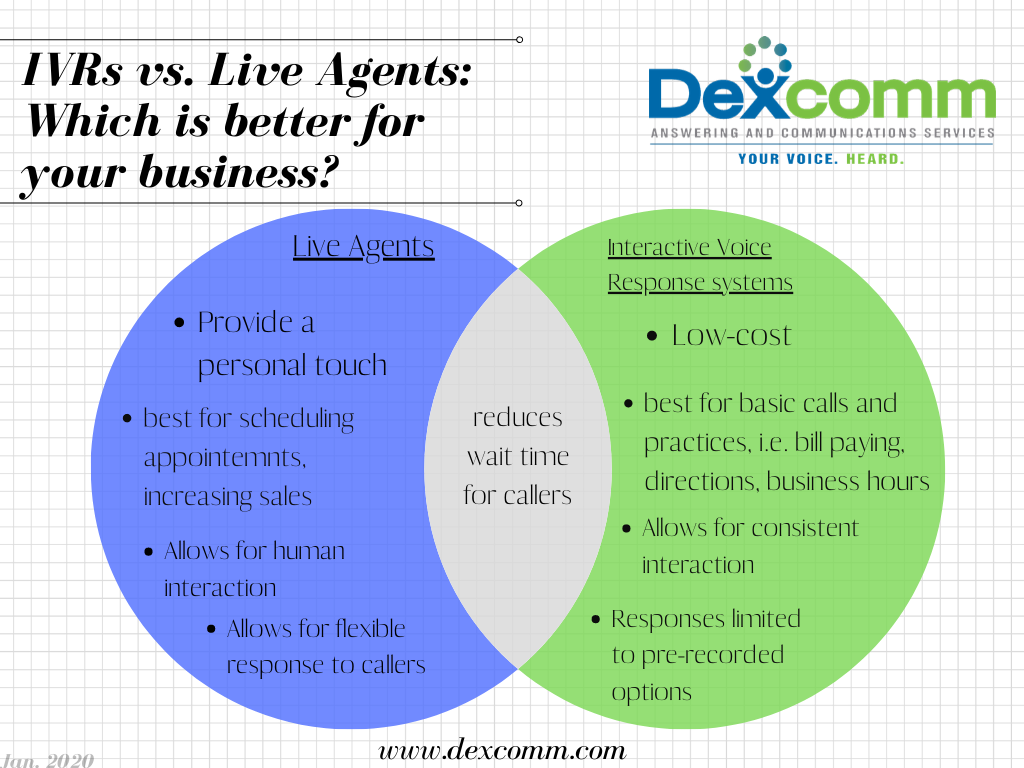 What is IVR?
IVR (interactive voice response) is a form of automation that allows callers to select their extension from a menu of prompts. In our digital era, it would be impossible to avoid interacting with an IVR system, but engaging with an IVR system usually plays out in the following way:
"Thank you for calling. Your call is very important to us. Press 1 for sales.
Press 2 for technical support. Press 3 for billing. Press 4 to speak with a representative."
IVRs are prerecorded greetings that may be customized for your business. They collect information about your caller and then direct your caller to the appropriate department or operator. This system is beneficial in more ways than one.
What are the pros of an IVR system?
Efficiency: It allows for

receptionists

or representatives at a call center to take as few calls as possible. This saves time and prevents operators from feeling overwhelmed.
Functionality: It eliminates wait time for callers. IVR systems immediately answer calls and direct callers to appropriate extensions.
Budget: IVRs cut down on costs by allowing agents to take fewer calls and instead spend time on more important calls that may lead to sales.
Consistency: By having a prerecorded message, your business is represented in a consistent manner to all callers.

While beneficial, IVRs do have some features that may result in customer dissatisfaction.
What are the cons of an IVR system?
Lack of flexibility: IVRs may have difficulty

understanding your customer's

accent or tone. This can result in frustration for your customer.
Unresponsive: IVR menus can easily become too long or complex. The average caller doesn't have the patience to sit through and listen to all options and may immediately press 0 or * to speak with a live person.
Lack of personality: IVRs typically use a robotic voice that does not portray compassion.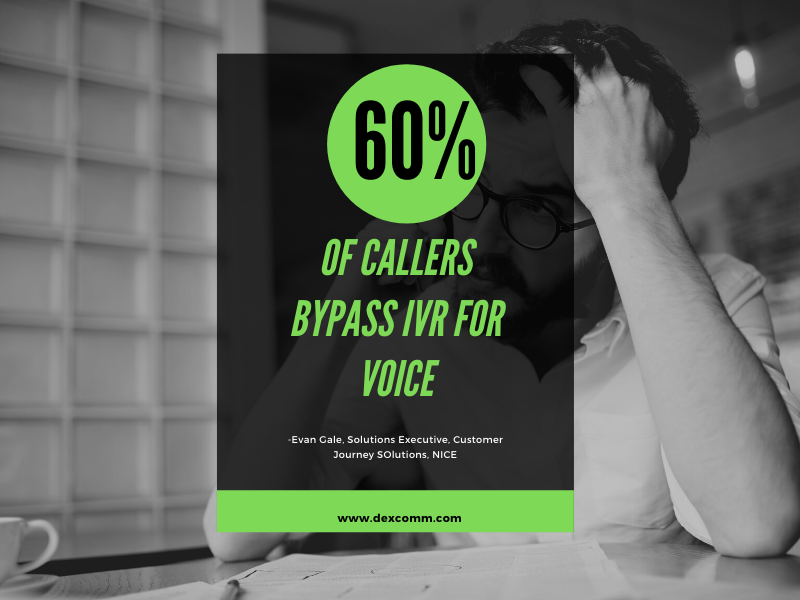 What is a 24/7 call answering service?
A professional answering service can provide several services to a business. They may answer incoming calls and relay messages, transfer calls to company representatives, schedule appointments, or a number of other tasks. The key is that a professional call answering service will never miss a call.
You may have dealt with answering services before when calling a doctor's office or a home service contractor. Sometimes, you may not realize that you are speaking to an answering service at all.
Usually, an interaction with a call answering service goes as follows:
"Good morning. Thank you for calling ABC Business. This is Sam, how may I help you?"
Professional answering services provide a personal touch to call answering. While an introduction or "perfect answer" may be recorded to play upon answering a customer's call, the remainder of the conversation is responsive. Live call agents interact with your customer and, depending on the company, may provide a number of unique services to assist your caller.
What are the pros of an answering service?
Personal touch: An answering service that employs people can provide live voices to answer your calls. Callers generally prefer speaking with

another person over a robot.

Professionalism: A professional answering service will answer your calls as you would! Call operators serve as an extension of your business for the duration of their call with your customers and use proper

call center etiquette

.

Flexibility: Not every call follows the same script. Live call agents are able to assist a caller in many ways and in several situations without the same limitations that a robot would have.




What are the cons of an answering service?
Cost: Live call agents are like an extension of your staff, and while an answering service is less expensive than hiring a full-time employee, it is more expensive than the average IVR.
Training: Call agents require

training

in order to ensure that they know the ins and outs of your business and are handling all calls according to your standards.
Industry irregularities: The quality of call agents varies among companies. Read our post about what to look for when choosing an answering service.
Of course, not all answering services are created equal. Some answering services focus on providing low-cost service, but may not focus on quality. Other answering services, such as Dexcomm, focus on premium quality.
Dexcomm focuses on training call operators to ensure quality assurance. You can learn more about our service standards here.
"We can't compete with automated services on price, but we can best them in service."
-Jamey Hopper, Dexcomm President
What are the key points to consider when choosing a professional answering service?
Determining whether live call agents or an IVR system is better for your business depends on a number of factors including:
What type of assistance do your callers need?
What type of assistance does your business need?
Will an increase in sales outweigh the cost of live agents?
Are you more concerned with customer service or effectiveness?
Once you determine the importance of these components as well as of personal touch, you will be able to make the best decision for the success of your business and the satisfaction of your customers and clients.