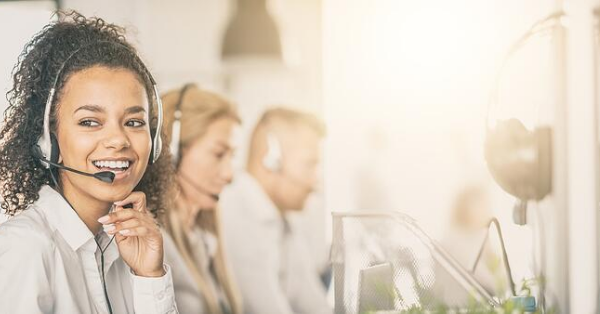 In the service industry, scheduling more appointments is the key to growing your business—but figuring out how to book more can certainly prove to be challenging. In this article, we'll share tips and tricks to help you book more appointments, increase your profits, and take your service business to the next level.
1. Use a Call Center to Avoid Overflows
It's a fact: Missed calls lead to missed opportunities. In fact, they're the primary reason most service businesses miss out on jobs. That's why using a call center is essential for avoiding missed calls. After all, you're just one person—you and your team can do only so much without the proper support. Partnering with an answering service provider will help you avoid call overflows, ultimately increasing your profits and growing your business.
Expanding your customer service hours to include nights, weekends, and holidays with call center appointment scheduling will also help you book more jobs. Additionally, a call center can step in to help out should a natural disaster such as a hurricane or blizzard knock out the power and your phone lines. That means rather than missed calls and missed opportunities, you can move forward with business as usual without missing a beat.
2. Offer Exceptional Customer Service
Booking more appointments and growing your business starts with offering exceptional customer service on each and every call. When you offer great service, your satisfied customers are more likely to spread the word to their friends and family. On the other hand, offering poor customer service is a surefire way to lose jobs, miss out on potential customers and opportunities to grow your business, and damage your reputation.
To protect your business's name and keep customers coming back, it's essential that you continuously offer top-quality customer service, regardless of whether you turn to a call center for appointment scheduling or handle your calls in-house. That means never missing calls, actively listening to customers' concerns, maintaining a friendly and professional demeanor at all times, and—of course—ensuring your business is up to par.
3. Let Your Call Center Book Appointments
Another effective approach for scheduling more appointments is to allow your call center to book them for you. By integrating your answering service with a field service management platform such as ServiceTitan, you can allow your call center to book appointments and avoid missing out due to after-hours calls. For example, since implementing Dexcomm's live answering service, Roto-Rooter of Baton Rouge, Louisiana, has closed 62 percent of 3,315 jobs booked from its after-hours callers.
Field service integration also allows you to work more efficiently, streamlining your appointment-scheduling processes and freeing your team members up to focus on helping customers. A great answering service provider will take the time to learn the ins and outs of your business to ensure appointment scheduling goes off without a hitch.
4. Earn Positive Reviews and Word of Mouth
Appointment scheduling usually begins with an online search for a local service business like yours. These days, online reviews are the first thing people turn to when searching for a local business. Research shows that 82 percent of consumers read online reviews for local businesses. Plus, the average consumer reads 10 online reviews before they feel that they can trust a local business enough to hire it.
An easy way to secure positive reviews and spread awareness in your community is to make a profile on popular review sites such as Yelp, Angie's List, and HomeAdvisor. You can also garner positive reviews on highly trafficked sites such as Google and Facebook, where customers are likely active.
To encourage your existing customers to leave great reviews, along with delivering great customer service at all times, consider offering an incentive. By incentivizing customers to leave reviews with small discounts on future purchases or the like, you can grow your digital footprint and, ultimately, your business in the process.
5. Don't Settle for a Cheap Answering Service
Like anything else you invest in, a lower-quality answering service is going to deliver less-than-stellar results. Cheap answering services may abandon calls or schedule jobs improperly, ultimately resulting in lost business. You can just imagine how many opportunities you could miss out on with the wrong answering service provider.
The potential problems range from misspelling names and typos to not understanding industry terminology, smacking gum during calls, or even being rude to callers. By partnering with a premium answering service provider like Dexcomm, you can deliver a top-quality call experience, generate more revenue, and grow your business.
Above all else, investing in a great answering service is the key to scheduling more jobs, increasing your profits, and scaling up your business. With these tips and tricks in your back pocket, you can grow your company and become even more successful—with a schedule full of appointments to prove it.