We recently had an uptick in queries about our pipeline hotline number monitoring services. And while we have been helping these types of customers for years, I am new to the industry, and decided to dig into why this is such an important part of operations for companies in the pipeline industry. And, as a marketer, I was also curious as to why interest had peaked for this particular service.
Pipeline 101
There is roughly 2.4 million miles of pipeline stretching across the United States. They transfer all sorts of liquids and gasses through a system of pipes allowing us to do things like heat our homes and cook with gas, have access to running water at the turn of a faucet, and sanitarily flushing away our sewage. These pipelines can be found almost everywhere. Much of our pipeline system is buried underground, but there are some above ground pipelines running thousands of miles across some of the country's less densely populated areas. Our longest above ground pipeline is the Rockies Express Pipeline which stretches from Meeker, Colorado to Clarington, Ohio.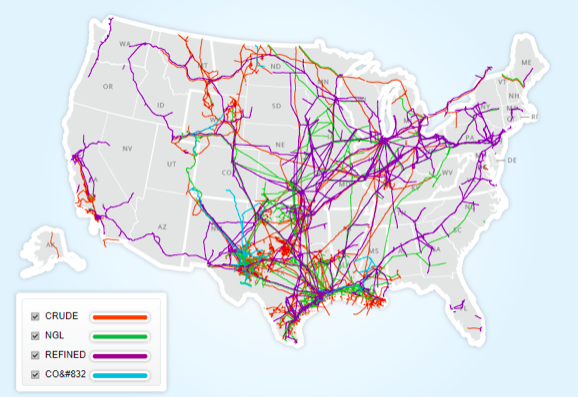 Pipeline Regulations
As with any industry that has the potential to cause harm to people or the environment due to operations, pipelines are regulated by the U.S. government. The Department of Transportation(DOT), and more specifically the Pipeline and Hazardous Materials Safety Administration(PHMSA) which is a division of the DOT are tasked with overseeing pipeline safety.
Why the Uptick in Queries?
One theory of explanation is the potential enforcement of stricter integrity management processes requirements. In July of 2018, there was an Advanced Notice of Proposed Rulemaking (ANPRM) issued asking for comments regarding safety measures for pipelines in response to population growth or "population class".
An ANPRM, is used by an agency to acquire public input on proposed changes to rules or regulations.
What Does This Mean for Pipeline Companies?
According to an article in The National Law Review, this proposed expansion of integrity management requirements would affect the actions that an operator of a gas transmission pipeline is required to take when population growth near a pipeline causes its "class location" to change.
Why This Matters To Pipeline Operators?
Without getting into the technical nitty gritty of the details, "class locations" range from class 1 to 4. "Class 1" refers to less densely populated/rural areas and "class 4", are the most densely populated areas. When a pipeline is designed, constructed, and operated, things like construction materials and maximum allowable operating pressure are taken into consideration. This differs based on "population class". This proposed regulation expansion is aimed at making sure that when a pipeline location class changes, that the pipeline operator follows stricter guidelines. This could mean things like running different types of pipes, decreasing operating pressure, or developing stricter public safety protocols.
(Source: X)
Why Is Hotline or Emergency Number Monitoring Such Serious Business?
There have been roughly 3200 occurrences of "significant incident" natural gas pipeline events alone since 1987 reported by PHMSA/DOT.
A "significant incident" is any of the following:
Fatality or Injury Requiring In-Patient Hospitalization
$50,000 Or More In Total Costs, Measured In 1984 Dollars
Liquid Releases of Five Or More Barrels (42 Us Gal/Barrel)
Releases Resulting in An Unintentional Fire or Explosion
In 2018, these were some of the reported incidents as of November 16:
(Source: X)
As you can see damage is prevalent, and safety is a high concern.
Basic Pipeline Public Safety
Rule of thumb, if you see something odd—say something. It could save lives and reduce negative effects on the environment.
How Do You Report Potential Emergencies?
Pipeline companies are required to have signage attached to their pipeline which tells you about the product running in the pipe, the pipeline operator who is responsible for maintaining the pipeline, and a 1-800 number listed for you to call to report potential problems. This number should be answered 24/7/365.
If you don't see a marker or number to call, and aren't aware of who provides local services for those types of pipelines, then it is recommended that you call 911 to report the incident.
Pipelineawareness.org recommends that you know a few things to help you keep an eye out for potential occurrences before they happen: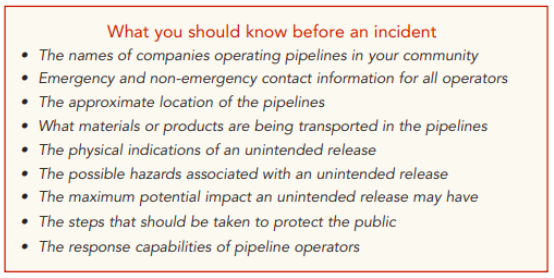 Overall Takeaway
Operating contentiously is an expectation of the modern-day business. And, when it comes to safety and the environment, pipeline companies, especially those carrying hazardous materials will continue to be heavily monitored by the government, to try and ensure that operators are choosing safety over cost.
As community members we need to play our part too. It is our duty to alert someone when things don't seem right. And, with the miles and miles of pipeline out there, it is pretty safe to assume that maintenance items slip through the cracks, unnoticed, every now and again.
Diligence on all sides is key to making sure that our modern-day infrastructure is a success.
Sources:
https://www.natlawreview.com/article/pipeline-safety-update-issue-no-141-september-17-2018
http://www.pipeline101.org/Where-Are-Pipelines-Located
https://fedsteel.com/our-blog/five-longest-pipelines-world/
https://www.regulationwriters.com/regulatory_glossary/
https://en.wikipedia.org/wiki/List_of_pipeline_accidents_in_the_United_States_in_2018