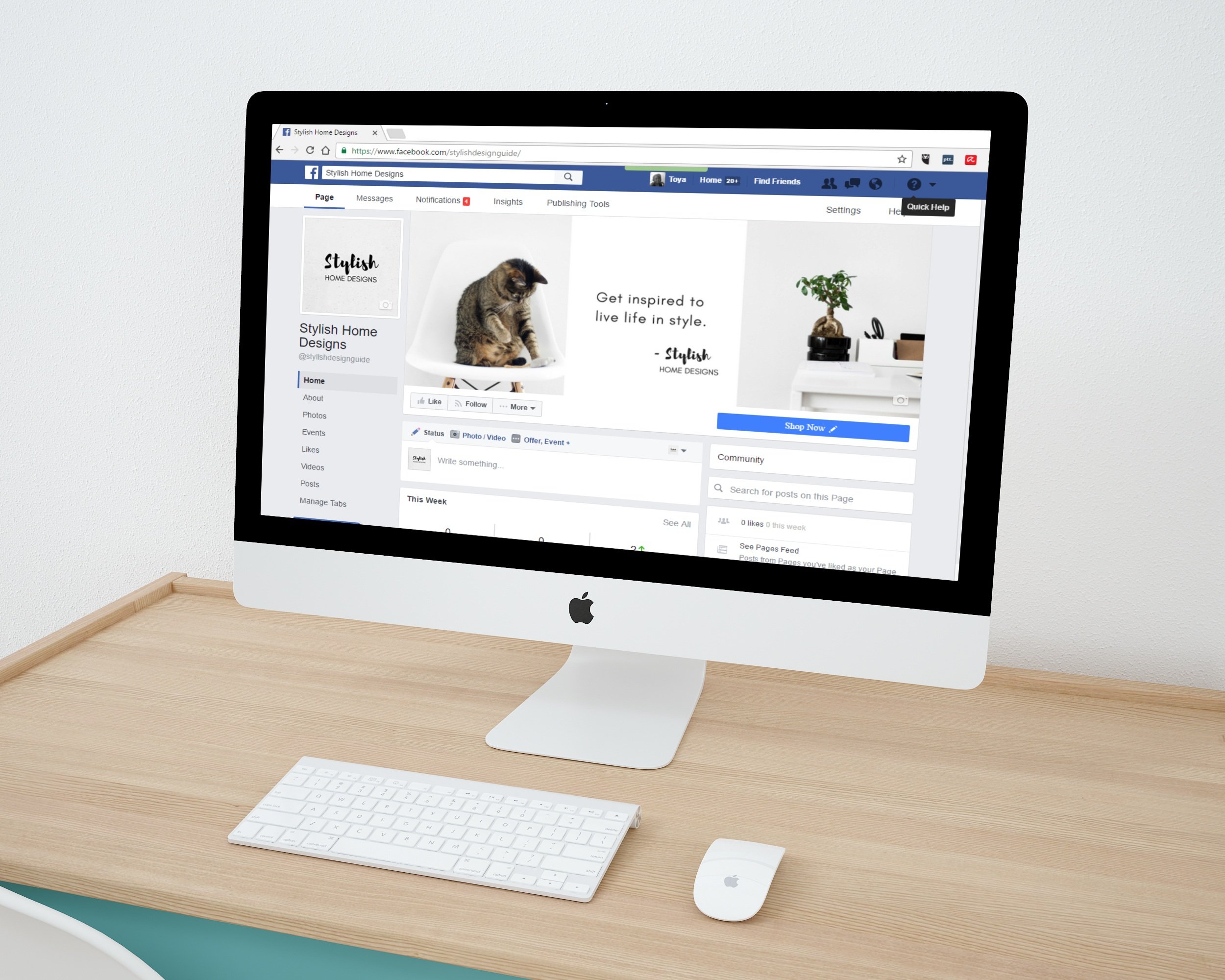 With an estimated 2.65 billion people using it, social media has a huge impact on the success of your business. If your heating, ventilation,and air conditioning company isn't already set up on at least one account we strongly recommend that you do so.
For most businesses, HVAC businesses especially, Facebook is the most beneficial social media platform to use.
In order to see the most engagement from your users, you'll need to create a strategy for your social media. This means mapping out the posts you will publish on your platform a week or a month in advance using a content calendar.This may be time consuming (it should take at least an hour), but it will prove beneficial.
A social media strategy for your HVAC business will allow you to post information that your clients and potential customers want to see-at the time that they need to see it.
For example, say you are having a special for $1500 off the purchase of a complete system. You are only running this special for one month and want to advertise it on your social channels to get more customers interested and hopefully buying it.
With a content calendar you could strategically post in the weeks leading up to and the month of your special. By posting before your special begins (and making this very clear in graphics and captions) you'll start gaining people's attention.
Along with using a social media strategy, your HVAC business should also: use a variety of other techniques to maximize your social media response.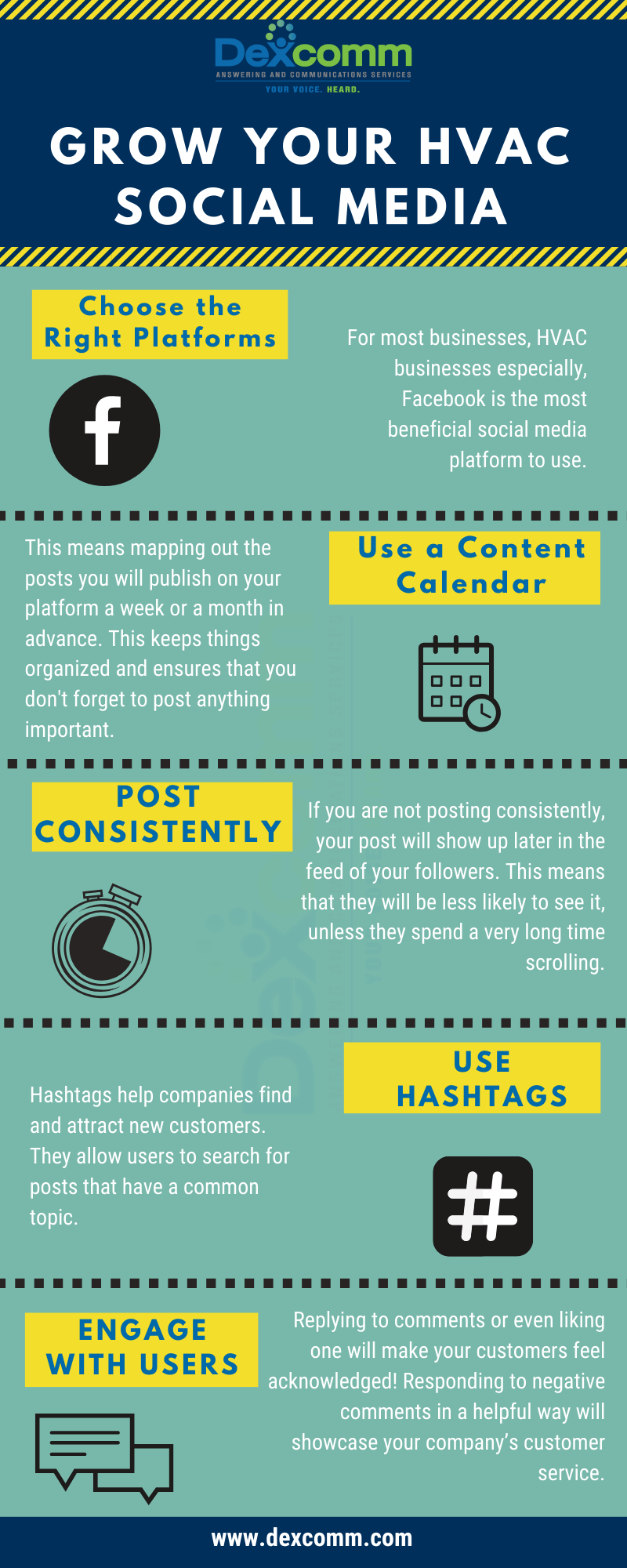 How to Use Hashtags for an HVAC Business
Don't know where to start when it comes to hashtags? Google the topic your post focuses on or just 'hvac hashtags'.
Hashtags help companies find and attract new customers. ThriveHive explains this concept well: "A "hashtag" is a label used on words or phrases on social media posts that help categorize together specific content on relevant topics. Hashtags, which can be phrases or acronyms, filter your social media posts to be searchable and linkable. For example, when you click on a hashtag, you are brought to a page with all the posts that use that same hashtag. It allows users to search for posts that have a common topic.
*Note: If your company only has a Facebook page, you may not need to worry about hashtags. Hashtags are very popular on Instagram, Twitter, and Pinterest, but rarely used on Facebook.
Using Video for HVAC Social Media
Social media users, especially Facebook users find video 5X more engaging than a regular photo. Use this to your advantage!
You don't have to create a professional video to gain audience attention either. As an expert in your industry, you have a ton of valuable information. Share this information with viewers in educational videos. Record yourself answering frequently asked questions or fixing something that your customers could do at home.
Your followers and other people who see the video will see that you are knowledgeable in your industry and think of you the next time they need an HVAC contractor.
Engage with users
Are customer's liking or commenting on your posts? Engage with them! Replying to their comments or even simply liking a comment will make your customer (or potential customer) feel acknowledged! Responding to negative comments in a helpful way will showcase your company's customer service.
*Additional Engagement: Like your followers posts! Spend about 15 minutes a day liking posts on your timeline. This will give potential customers acknowledgement and will also show social media platforms that your account is active.
Make Your HVAC Social Media Posts Personal
No one likes ads, and on social media things are no different. If you only make posts that are advertising, people will begin to unfollow.
When creating your content calendar, include posts that make your business seem more personal. Maybe post a picture of your employee of the month, or a video from your company's 10 year anniversary party.
Include Customer Reviews/User Generated Content
Social media is a perfect place to showcase your customer reviews! If you have a customer leave a review on your website or Google reviews, you can easily share it via your social page.
Some customers won't leave reviews in a traditional manner. Instead, they may take a photo of themselves or their unit and tag your business. With this type of user-generated content, you can share or repost. This lets your followers see the results of your business in real life with real people.
Use High Quality Images
This tip is very important. Social media users (and visitors to your website) have very high standards. It could be due to the wide use of smart phones which take professional quality photos now. When posting be sure that you only use high quality images. No blurry photos or poorly taken pictures.
Stock photos should never be used! Customers and viewers can easily tell a stock photo from an authentic photo. Using stock photos comes off as unauthentic.
Post Consistently
Probably the most important aspect of social media marketing is posting consistently. Facebook and Instagram both show social media users posts that the platform thinks that they would be most interested in. They determine this based on who these users tend to interact with the most. Who's post are they liking? Who's videos are they watching?
If you are not posting consistently, your post will show up later in the feed of your followers. This means that they will be less likely to see it, unless they spend a very long time scrolling.
Discover more tips on social media for an hvac business by reading "Social Media Do's and Dont's For HVAC Companies".
Key Points
Your heating and air conditioning company needs to have an active social media presence (and a great website too)!
It is a place for current customers to leave reviews and interact with your brand and also a place for potential customers to learn more about your company. With an active, organized, and consistent social media strategy, your HVAC business is should be able to reap marketing benefits!