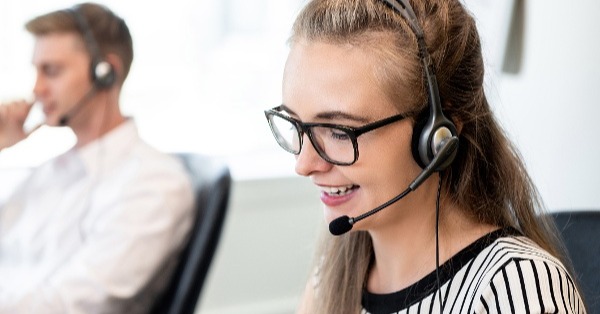 Being a business owner is challenging—especially with so many responsibilities to manage at one time. As your business grows, you're naturally going to need extra support to stay on top of things; however, like everything else, that help comes at a cost.
Fortunately, virtual answering services are a great option for small-business owners looking to avoid the overhead of a full-time receptionist.
In this article, we'll discuss how partnering with a virtual answering service can benefit your business, plus the key performance indicators (KPIs) you can use to measure your return on investment (ROI).
How a Virtual Answering Service Can Benefit Your Business
A virtual answering service can benefit your business in a number of ways. By partnering with a virtual answering service, business owners can rest assured they won't miss out on jobs after-hours, over the weekend, or on holidays. That means more appointments booked, customers gained, and problems resolved—all without paying a full-time receptionist or settling for subpar customer service.
Many live answering services offer a variety of services, just like an on-site receptionist does. For example, it's common for a virtual receptionist to answer inbound calls, manage social media customer service and live web chats, and promptly respond to email communications—basically the perks of a receptionist and a customer service agent all at once. And because a virtual receptionist is dedicated to your account, they're more integrated and can function as a true extension of your business.
Your off-site receptionist can not only offer quality service that keeps customers coming back, but also schedule appointments to help your business grow. Plus, easy, seamless integration with a field scheduling software such as ServiceTitan ensures all call data is instantly synced between systems, so your entire team will remain on the same page about upcoming jobs booked by your answering service provider.
5 KPIs to Measure Virtual Answering Service Performance
Benefits aside, not every virtual answering service is equally effective—and in order to reap the rewards, it's essential you find a way to measure virtual answering service performance to make sure it's yielding the results you're looking for. Whether you're still considering bringing a virtual answering service on board, or you already have one and you're curious about the value they're providing, it pays to take a deeper look.
Here are five KPIs you can use to measure performance and ROI:
1. Appointments Booked
One of the biggest benefits of partnering with a virtual answering service is the ability to never miss a customer call or message again. By enabling your virtual receptionist to book appointments after-hours and on weekends and holidays, you can increase the number of appointments booked, increase your revenue, and ultimately grow your business. Make note of the number of appointments your virtual answering service has booked while taking calls on your behalf to measure their effectiveness.
2. New Customers
With a virtual answering service to take calls and schedule jobs on your behalf, you can grow your customer base and increase awareness in your community. And since your customer service quality is likely to improve along with your availability, there's a good chance you'll benefit from satisfied new customers spreading the word to family and friends. Review the number of new customers your virtual answering service has converted to determine how effective they've been when it comes to sales.
3. After-Hours Service
Concerned about your virtual answering service's productivity while answering calls after-hours? By assessing the number of calls they take after business hours and on weekends and holidays, you can determine the need for after-hours support and measure their productivity all at once. Consider the number of customers your virtual answering service has assisted after-hours to make note of how much they're needed as well as how much they're helping.
4. Customer Satisfaction
Customer satisfaction is incredibly important for any business, but for service businesses, it's even more critical. Customer satisfaction is still incredibly important when gauging a virtual answering service provider's performance. To measure satisfaction, pay close attention to customer sentiment in online reviews and testimonials as well as any customer complaints you may receive.
5. Revenue Earned
Last but certainly not least is revenue earned. While it's not the only measurement of success, money is money, and maintaining a healthy cash flow plays an important role in keeping your business alive and thriving. You can measure this key performance indicator by determining the amount of revenue earned as a direct result of jobs booked by your virtual answering service.
Transforming Your Business with a Live Answering Service
A great virtual answering service can benefit your business in a myriad of ways, helping you sell more services, increase your profits, spread positive word of mouth, convert new customers, and ultimately grow your business. When you partner with Dexcomm, our dedicated customer service team will spend time getting to know your business and exactly what you need in a receptionist.
Looking for a virtual receptionist who will serve as a true extension of your business? Get in touch to learn more about Dexcomm's virtual answering services.