Dr. Charles Dugal receives Professional Excellence Award
Dexcomm presented Dr. Charles Dugal, MD with an award of professional excellence. The Adaptability Award honors an individual or organization that provides a distinguished level of service to patients by maintaining a sense of order and focus of care without pause.
Dr. Dugal, a member of the Our Lady of Lourdes Regional Medical Center Primary Care Physician Network, provides Acadiana patients with exceptional care and focus. Dr. John Charles Dugal is a graduate of the Louisiana State University School of Medicine in New Orleans.
"Recognizing Dr. Charles Dugal's commitment to patient care, patience, and good humor with Dexcomm's Core Value Award is an honor," expressed Dexcomm's Customer Service Manager Karl Schott. "He exemplifies professional excellence with his adaptability in the face of challenging circumstances to attend to his patients. Our staff has enjoyed serving Dr. Dugal for several years and values his dedication to care excellence."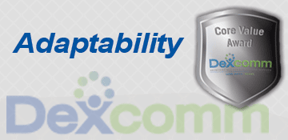 Dexcomm is a Louisiana-based corporation that provides communications and answering services to businesses and service agencies across the United States. Our company recognizes those individuals or organizations which share its core values of excellent customer service and commitment to serving others.
Congratulations to Dr. Charles Dugal for his award of professiona excellence. We applaud his service levels and core values to patients.