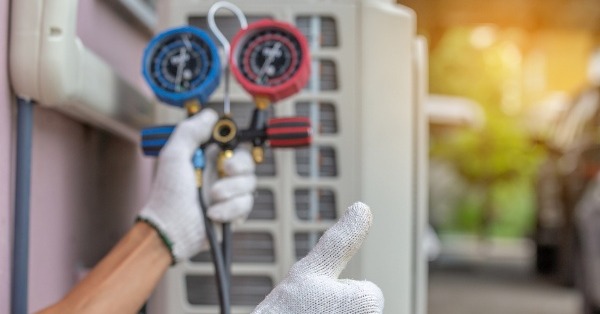 Delivering a great customer experience has never been more important (or more difficult) than it is today, and the HVAC industry is no exception.
Modern consumers have high expectations, from top-quality customer service and personalized interactions to multichannel digital experiences. What's more, customers are now better equipped and more likely to take their business elsewhere when service doesn't meet their expectations.
If you're in the HVAC industry, you may be wondering how to grow your HVAC company. The truth is that there's no magic solution for how to sell HVAC services. The answer lies in creating an outstanding experience that customers rave about. In fact, 93 percent of consumers are more likely to be repeat customers when companies have excellent customer service.
So, how can you offer top-notch customer service, and why is doing so essential for growing your HVAC business? We'll break it down for you.
The Real Reason Why HVAC Businesses Miss out on Jobs
HVAC businesses, like all service businesses, rely on successful appointment bookings. Without any booked appointments, you have no means of revenue. But what you may not have thought about before is the reason why you miss calls in the first place.
Running a business is a full-time job. You jump on the treadmill of meetings, profit and loss reports, training new staff, working in the field, speaking to distributors and vendors, and before you know it, things that are critical to your business get overlooked. Then vacations happen; your secretary goes on maternity leave; people quit, retire, or move on; and the treadmill continues. You are still understaffed and new service calls will not wait.
You're probably thinking, "So what, everyone is busy and trying to answer multiple calls—that's business! We will get an interactive voice response (IVR) system or a voicemail box and call it a day. Problem solved." Then you think you're done. That might be business; it's just not smart business. Here's a deeper dive into why.
The Lessons Our HVAC Customers Taught Us
Because of our extensive experience in call answering for HVAC businesses, we have noticed underlying factors that compound the problem of insufficient staffing at your office. These factors are:
Often, "I'm too busy" meets basic growth economics. Adding capacity costs money, (e.g., staffing, benefits, trucks, supplies, training, supervision). Something must give! You will normally shrink back to the size you were or lose money trying to fight it.
Calls often arrive in bunches, such as after an ad airs on the TV or radio, first thing in the morning (i.e., check-in times), during lunch, or right before closing when people get off work.
Calls after-hours that go to voicemail with no live voice option will result in more hang-ups. They also will not call back.
You cannot answer every call, nor would you want to.



The Impact That Word of Mouth Has on HVAC Business Success
Prompt answering ensures that your callers receive a great experience and have their problems promptly answered, all of which helps build your brand's reputation. Remember, you choose the impression that callers receive from your HVAC office and t's up to you whether callers are rushed off the phone or greeted with your values. Remember, bad news travels fast.
Matt Warren of Big Commerce speaks to the power of word of mouth marketing (WOMM) in his blog article on building referral sales: "Winning nowadays requires strategy and squeezing the most out of every opportunity."
According to Warren, "92 percent of people trust recommendations from friends and family over any other type of advertising." In other words, service customers who are unhappy will take their business to the next company they can find to help them. Right after they do that, your unhappy caller will pull out their phone and spread the bad news!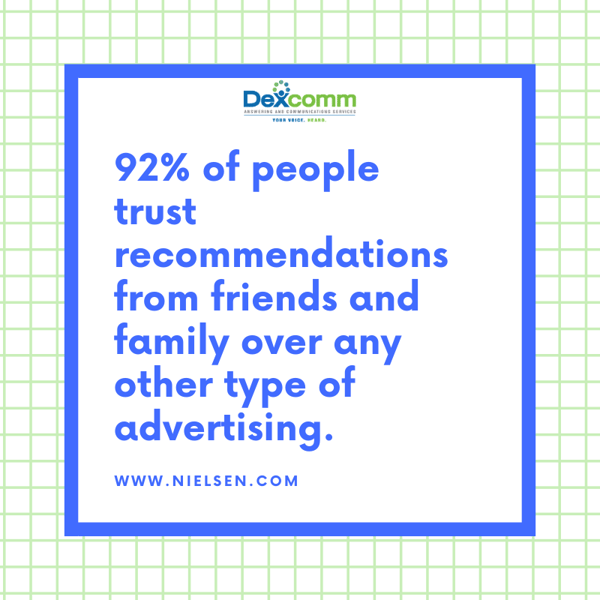 Think about it: Are you more likely to choose a business that a family member or friend vouches for? If you're like most consumers, the answer is yes. Referrals carry a lot of weight, especially in the service industry. If the word on the street is negative, it can greatly affect your business growth and revenue.
On the other hand, word of mouth is a very powerful revenue-accelerator. Not only are happy customers more loyal, but they're also more likely to leave positive online reviews and refer your business to their family and friends. 83 percent of Americans say a word-of-mouth recommendation from a family member or friend makes them more likely to choose a product or service. For local HVAC businesses, word of mouth is an even more powerful way to acquire and retain customers.
5 Tips for Offering Outstanding HVAC Customer Service
You may be wondering what steps you can take to improve your customer service and, in turn, grow your HVAC business. Here are a few tips to help you get started:
1. Always be available to customers.
First and foremost, always be available to your customers. Emergency, holiday, weekend, and after-hour calls are the nature of the HVAC business. By having live, well-trained customer support available 24/7, you can ensure you're always available when your customers need you most. Remember, missed calls mean missed opportunities to book new jobs and grow your HVAC business.
2. Start out with a call script.
Wondering what separates a good call from a poor one? It's all in the script—but writing the perfect HVAC call script may seem daunting. Call scripting is important because it essentially lays out how you would like a customer service representative to reply on your behalf. When crafting an HVAC call script:
Begin with the end of the call in mind.
Consider the call experience from the first ring.
Start with core components and branch out as you go.
Record calls as they go through the call flow and scripting.
Review your options with an expert answering service.
To get a better idea of what a call script should look like, download our free sample call script, created specifically for professionals in the HVAC industry.
3. Be friendly and personable.
One of the keys to customer service success is to form real, personable connections with each caller. It's what separates the voicemails and automated support from communicating with a live agent. A little goes a long way, and small actions such as speaking in a friendly, patient tone can make all the difference. When hiring representatives, it's important to look for candidates with strong interpersonal communication skills to ensure they have what it takes to provide an outstanding customer experience.
4. Listen, listen, and listen some more.
More than anything, people want to feel like they're being heard—including your customers. That's why active listening plays an incredibly significant role when it comes to customer service. Encourage your customer service representatives (or whoever handles your business calls) to be present throughout each call and to engage without ever interrupting callers. This way, your customers will feel they're getting attentive, personalized service from your business.
5. Offer clear solutions to problems.
Whether it's scheduling a service appointment or offering helpful tips and tricks, it's important to always offer clear solutions to HVAC-related problems. No customer wants to hang up feeling like they're uncertain of what to do next. If anything, that's a surefire way to send them running to the hills—or at least to the nearest competitor. To offer the best customer service possible, make sure your representatives end each call with clear next steps in place.
Grow Your HVAC Business with a Great Answering Service
What's better than voicemail, IVR, and an auto attendant? A live, professional, and superiorly trained representative for your business.
Voicemail doesn't give the caller an option for a live voice. IVR systems and auto attendants don't leave your caller feeling reassured. Holds, queues, and callbacks are an option, but they are not ideal.
Often, your callers will go to another repair service to have their needs met more quickly. When the A/C is out and mama isn't happy ... well, you know the rest of that story!
The primary strategy we employ when working with a new HVAC business depends on:
The size of your business
Your business' call volume
Peak times of call traffic
And other factors such as whether you use an in-house dispatcher or if you have commercial or residential customers
Partnering with an answering service allows your HVAC business to field more after-hours calls so you can be more consistent with great service.. Forget about holds, queues, voicemails, and callbacks. Instead, partner with an answering service such as Dexcomm that allows your HVAC business to be readily available to your customers at any time, day or night.
Our customer service representatives who answer calls view your success as our success. What does that mean for you? Your business captures more calls and then turns them into an opportunity to make a wonderful first impression and gain a customer for life.
Looking for information on how to sell HVAC services? Get in touch to learn how Dexcomm can help grow your HVAC business and exceed expectations—one conversation, service appointment, and delighted customer at a time.