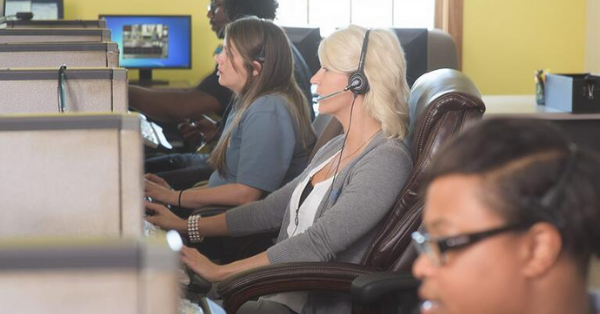 A comprehensive communication plan is a must-have for every successful business—especially in today's consumer-driven world. Knowing how to effectively communicate with customers and resolve their problems in a timely fashion is essential for business growth.
By following a well-executed plan and using technology for business communication, your company can save money, increase its rate of production, and gain a competitive edge in the marketplace—all of which can lead to rising profits and a growing business. This creates an environment in which readily accessible data, secure and instantaneous communications, and robust voice networks work together in harmony.
All of this comes together in a consistent, effective, efficient, and optimized set of workflows that can increase your productivity and improve how you communicate with your customers. Here's how to improve your business communication with the help of modern technology.
Good Communication for the Modern-Day Business
These days, it's rare to find a person who does not have a smartphone or tablet in their possession. We can communicate with others with the click of a button, whether it's connecting with a customer to tell them an HVAC service tech has run into traffic and is slightly delayed or calling a field technician to reroute them to an emergency call.
All of these situations are made possible with the availability of modern communication technologies and systems. Technologies for emailing, text messaging, voice communication, videoconferencing, and document sharing can now be fully integrated into how work is conducted and how people interact.
Today's consumers not only want but also expect your business to be well-equipped with the technology and resources you need to meet their needs and resolve their issues—and to do so efficiently. For 36 percent of U.S. consumers, the most important aspect of a good customer service experience is getting their issue resolved in a single interaction.
Fortunately, modern technology enables us to streamline workflows, improve productivity, and deliver a better, more convenient customer experience. Utilizing technology to resolve issues quickly leads to happier customers who are more likely to be loyal to your business. In fact, 66 percent of U.S. customers do more business with companies thanks to quality customer service.
Here's how Kristin Smaby, author of "Being Human Is Good Business," explained modern business communication and how it impacts customer service, the customer experience, and ultimately retention: "In an era when companies see online support as a way to shield themselves from 'costly' interactions with their customers, it's time to consider an entirely different approach: building human-centric customer service through great people and clever technology. So get to know your customers. Humanize them. Humanize yourself. It's worth it."
Utilizing Technology to Improve Your Business Communication
Below are some common examples of the ways technology can help your company communicate more effectively.
Videoconferences
You can use a videoconferencing tool to hold weekly meetings with your employees, even if they cannot be physically present. Whether you use Zoom, Google Meet, or another videoconferencing tool, the result will be consistent workflows that are not easily disrupted when someone from your team works remotely. It's also especially useful for teams that are spread out geographically.
Text Messaging
You can also use text messaging on a smartphone or tablet to assign tasks to employees and monitor their progress. For example, the manager of a plumbing business might text plumbers in the field to see how an emergency call is going and whether any assistance is needed. Tablets have become incredibly commonplace in business, especially for field service techs.
Web Portal
You can utilize a communication management portal to hold all of your communication data for optimized workflows. Communication management portals allow you to engage with your customers across multiple channels in whatever manner they prefer. This enables more timely customer service responses and resolutions to problems.
Scheduling Systems
You can better coordinate service calls or appointments using a common scheduling system such as ServiceTitan. Using a scheduling system can introduce efficiencies across every department and boost your revenue by allowing you to book more jobs and do more business. For example, an HVAC technician can use a scheduling system to see relevant customer details such as service history, call records, and appointment locations.
Making Smart Use of Technology with System Integration
Technology alone can be beneficial, but it's even more advantageous when it's used in tandem. System integration allows companies to enjoy the full benefits technology has to offer. Many of the technologies listed—and many more that are available on the market—can integrate with one another via an application programming interface (API). When solutions are integrated, they communicate with one another seamlessly. In other words, data is synced between systems in real time, ensuring your team is always on the same page and up to date with the most accurate information.
At Dexcomm, our live answering service technology integrates directly with field service platforms such as ServiceTitan to improve the call experience for customers, allow call operators to work more efficiently, and ensure seamless communication with real-time updates.
I have seen that technology has contributed to improved communication, that it's contributed to better health care, that it's contributed to better food supplies, that it has contributed to all the basic human needs.

~ John Warnock
Transforming the Customer Experience with Technology

Technology can be incredibly beneficial in the workplace, but the right amount of consideration must be given to ensuring ease of use, user acceptance and adoption, and proper user training. Training should be designed to accommodate users with varying degrees of technical ability, with some being more tech-savvy than others. This will prevent barriers to tech adoption, which sometimes arise when employees don't feel adequately trained for a new system.
Once your employees and clients are given access to more consistent, effective, efficient, and optimized communication channels—as long as they're managed properly—it is inevitable that your workflows will improve. In turn, so will your productivity and the experience you provide for your customers.
If you're looking to improve your customer service and business communication, you may be able to do so by partnering with an answering service like Dexcomm, which integrates with your field service platform. Get in touch to learn how Dexcomm can help you scale up your business.